Eight states hold primary elections tonight, but all eyes will be on California, where Democrats could get shut out in key House races in the Golden State because of California's top-two jungle primary system.
Alabama, New Jersey, Iowa, Mississippi, New Mexico, Montana, and South Dakota will also hold primaries.
Breitbart's Sean Moran is on the ground in the Big Sky state, covering the GOP Senate primary. Moran will be sending in updates from Matt Rosendale's campaign headquarters.
Read Breitbart California's Joel Pollak's preview of the most important California House primaries here.
Stay tuned to Breitbart News for live updates of all of the key results. All times eastern.
—
2:00 AM: CA state senator Josh Newman (D-Fullerton) looks like he will be recalled for supporting the gas tax and replaced by Republican Ling Ling Chang, which means Democrats will lose their supermajority in the state senate.
1:50 AM: Persky (Stanford rape case judge) likely will be first CA judge to be recalled since 1932
1:45 AM: Rosendale now giving victory speech in Helena:
"We're here to slaughter the hog of big government," he said.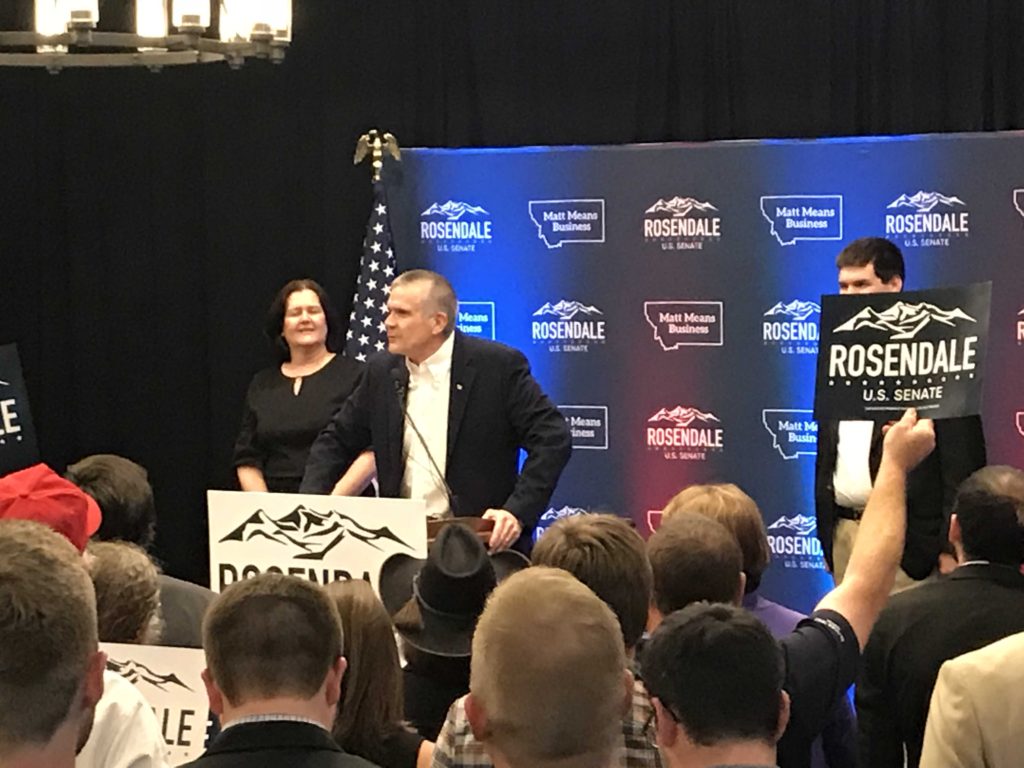 (Sean Moran/Breitbart News)
1:35 AM: AP Calls Montana GOP Senate Primary for Matt Rosendale.
1:25 AM:
1:20 AM: Breitbart's Sean Moran in Montana:
Rosendale continues to lead at 33.7 percent of the vote, while Fagg has 29.2 percent, with 48 percent of precincts reporting.

1:15 AM: Ummmm….

12:35 AM: Rosendale in good shape in Montana:

12: 23 AM: NBC and CNN project Republican gubernatorial candidate John Cox will get the second spot in the gubernatorial race and face off against Newsom. Cox surged after Trump endorsed his candidacy.

Facebook has greatly reduced the distribution of our stories in our readers' newsfeeds and is instead promoting mainstream media sources. When you share to your friends, however, you greatly help distribute our content. Please take a moment and consider sharing this article with your friends and family. Thank you.

Source:breitbart.com