Donald Trump said the US needed to "drastically" change its approach to mental health and tighten security at schools in response to this week's school shooting in Texas.
The former president, addressing an audience in Houston at the National Rifle Association's annual conference, rebuffed the idea that stricter gun control policies would reduce mass shootings and said their cause instead lay with mental health issues, a lack of school security, and a lack of school discipline.
"The various gun control policies being pushed by the left would have done nothing to prevent the horror that took place," Trump said on Friday, referring to Tuesday's massacre at Robb Elementary School in Uvalde, Texas.
Since the Columbine High School shooting in Colorado in 1999, "we've been afflicted by a contagion of school shootings carried out by deeply evil, violent and mentally disturbed, young men," he said.
Trump said there were so many "warning signs" and that teachers, parents, school officials and community members need to recognise the "alarm bells promptly" and "aggressively."
"We need to make it far easier to confine the violent and mentally deranged into mental institutions," he continued.
Earlier this month, the US Congress overwhelmingly voted to send nearly $40bn in military aid to Ukraine. In total, US lawmakers have sent about $54bn to Ukraine since Russia invaded in February.
Trump rejected calls for tightened gun controls, saying decent Americans should be allowed firearms to defend themselves against "evil".
He instead proposed a "top-to-bottom overhaul" of school safety, with fortified single points of entry including metal detectors and at least one armed police officer on every campus. He accused Democrats of stonewalling such security measures.
The former Republican president began his speech by reading out the names of the Uvalde shooting victims, with each marked by a bell toll.
Trump also advocated for US schools to undergo a "top to bottom security overhaul", including strong exterior fencing, metal detectors and mandating every building to have a single point of entry to ensure an unauthorised person with a weapon could enter a school.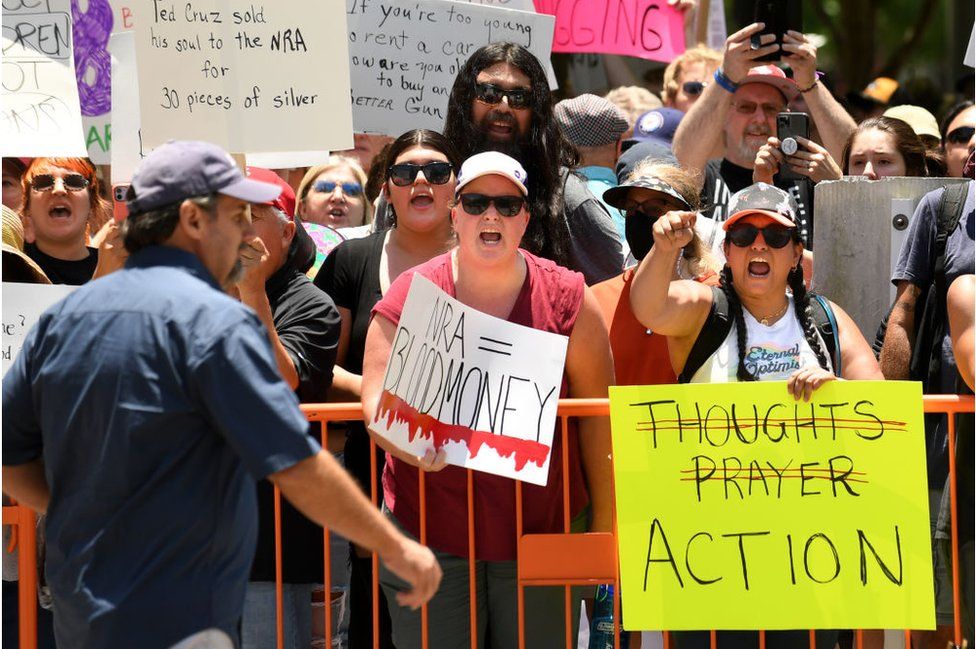 He said every school should have a police officer or armed resource officer on duty at all times and that classroom doors should be hardened and "lockable" from the inside. Texas senator Ted Cruz made identical recommendations at the conference earlier in the afternoon.
Trump criticised the Covid-19 relief funding that Congress sent to K-12 schools and said "every penny" of unused funds should be taken back from the states and used to "quickly establish impenetrable security at every school all across our land."