Avril Haines, the new Director of National Intelligence released a report headlined, "Domestic Violent Extremism Poses Heightened Threat in 2021."
The letter was signed by all 10 committee Republicans and called the four-page DNI report "misleading" with a "deceptive nature."
"It is our view that your office, and the elements of the IC for which you are responsible under the auspices of the National Security Act and National Intelligence Program, are subject to longstanding prohibitions against domestic activities," the letter states.
"We are alarmed by the lack of explanation provided by the authors to justify the ODNI's production of such a report," the letter adds.
Republicans argue that the report that was drafted by the National Counter-Terrorism Center, which is an agency designed to focus on foreign threats such as al Qaeda, ISIS, and other groups that intend harm for the United States violates federal law, according to The Washington Times.
"Based on the scope contained in the report, declared IC [intelligence community] involvement, classification markings, and ultimately the content itself, we are concerned that IC elements and personnel acted beyond their legal authority in its production," the Republicans say.
"For example, the explicit statement that this report was 'prepared under the auspices of the DNI' and 'drafted' by the NCTC appears to contravene the express statutory limitation on NCTC's authorities on intelligence pertaining exclusively to domestic terrorism. Under current law, the NCTC is authorized only to 'receive… retain and disseminate such intelligence,'" they added.
The Republican letter states:
While we acknowledge the seriousness of the domestic violence extremist threat and the need for a coordinated federal response, the involvement of the Intelligence Community in this circumstance should be limited to an examination of potential foreign ties, such as foreign influence, direction, or funding of DVEs.
There are numerous federal agencies with the requisite authority and subject matter expertise to produce a report on this topic, with appropriate support from the IC.
The letter argues that DNI Haines calls the report an intelligence assessment but it is the product of the vigorous Intelligence Community Assessments.
"The IC assesses that domestic violent extremists (DVEs) who are motivated by a range of ideologies and galvanized by recent political and societal events in the United States pose an elevated threat to the Homeland in 2021," the Republicans said.
The DNI says the most lethal attacks will come from racially or ethnically inspired extremists.
The DNI report lists four major DVE categories:
TRUMP SUPPORTERS: See How to Claim this Trump Collectible Coin for FREE Today!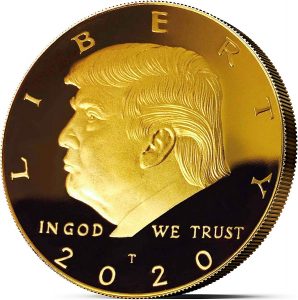 [maxbutton id="10″ url="https://68681rq8q7v7azdnegrtrnaw1n.hop.clickbank.net/" ]
Racially or ethnically motivated violent extremists
Anti-government/anti-authority violent extremists
Animal rights/environmental violent extremists
Abortion-related violent extremists
It also says that white supremacists have "the most persistent and concerning transnational connections."
The Republican letter asks the DNI a series of questions, such as, "Under what authority were National Intelligence Program personnel and resources expended for the generation of a report concerning domestic violent extremists?"