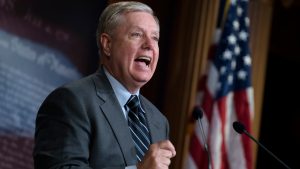 Sen. Lindsey Graham (R-S.C.) told a rally in Georgia on Thursday that Republicans must keep control of the Senate to retain the ability to kill bills coming from the House of Representatives.
Democrats retained control of the House and expect Rep. Nancy Pelosi (D-Calif.) to remain speaker.
"We've got a chance here in a few days to make sure that the most radical agenda in the history of American politics dies in the U.S. Senate, that anything coming out of Pelosi's House comes to the Senate and we kill it dead," Graham told a rally in Gainesville.
Graham was campaigning with Sen. Kelly Loeffler (R-Ga.), one of two Republicans trying to keep their seats.
Loeffler and Sen. David Perdue (R-Ga.) are engaged in runoff elections after failing to garner a majority of the vote in the general election. The elections take place on Jan. 5, 2021, though early voting started weeks ago.
Pastor Raphael Warnock is attempting to unseat Loeffler, who was appointed to the seat by Georgia Gov. Brian Kemp following the retirement of Sen. Johnny Isakson (R-Ga.). Perdue is facing filmmaker Jon Ossoff. Perdue wasn't at the rally because he was exposed to COVID-19
"Because if Mitch McConnell controls the Senate, they're going to try to do to" Biden and vice presidential candidate Sen. Kamala Harris (D-Calif.) "just like they tried to do to" President Barack Obama, he added.
In a statement on Jan. 1, Ossoff said Democrats can pass a new Civil Rights Act, but only if they flip the Senate.
Former First Lady Michelle Obama told voters in a robocall this week that "you have the power to change things in the upcoming Senate runoff election," adding: "I'm asking you to vote for Reverend Raphael Warnock, because I know he'll work with Joe Biden to help make health care more affordable."
Graham said on Thursday that Warnock and Ossoff are radicals who would "be in lockstep with a socialist agenda that's going to come out of the House."
"But we're going to kill it dead here in Georgia," he added.
Messaging from both parties has focused on how the races could determine control of the Senate. Republicans have the upper hand, but Democrats could end up with control of both chambers of Congress and the presidency.
That would require Democratic presidential candidate Joe Biden being declared the winner of the presidential race, and both Democrats winning the runoffs.
Democrats would then control the Senate by virtue of the tiebreaking vote the vice president can cast in his or her role as president of the upper chamber.
Ossoff touched on the theme while campaigning with Biden and Warnock last month, telling a rally, "we need to make sure Joe Biden can pass his agenda."
Source: republicanstory.com