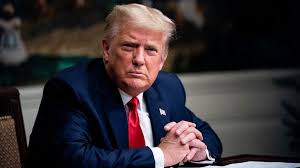 President Donald Trump isn't happy with how officials have handled the ongoing Hunter Biden investigation. In fact, he's frequently called out the Department of Justice for their apparent inaction.
And if the DOJ fails to make significant strides, POTUS is going to take action of his own. It could be cause for concern for Biden, though family members maintain his innocence.
Just last week, Hunter admitted he was under investigation for various taxes, and possible unreported income from the Ukrainian company, Burisma.
According to Politico, someone with direct knowledge of the probe said that investigators in Delaware and Washington were looking into potential money laundering and Biden's foreign connections.
But things got more contentious just after Biden's admission.
Because that's when we learned Attorney General William Barr was aware of the Biden investigation, but failed to make it public.
Trump believes this might've cost him support in the presidential election. And according to a recent reply he made on Twitter, he's going to "declassify everything":
He went further by saying that if Biden does claim the presidency, nothing will ever happen in terms of consequences.
He added the following tweet:
IF Biden gets in, nothing will happen to Hunter or Joe. Barr will do nothing, and the new group of partisan killers coming in will quickly kill it all. Same thing with Durham. We caught them cold, spying, treason & more (the hard part), but "Justice" took too long. Will be DOA!

— Donald J. Trump (@realDonaldTrump) December 12, 2020
At this time, we can't be sure what the President means by "declassify everything." It's a relatively broad statement, after all, but it does hint at a windfall of possible evidence hitting the public.
The Wall Street Journal reported over the weekend that Trump is thinking about special counsel investigations.
This would theoretically include a new probe into Hunter Biden's business operations and alleged tax issues, and a separate investigation into possible widespread voter irregularities in the 2020 election.
Even so, it may not happen in time to alter the current course.
The Electoral College will likely cement Biden's victory this week. And Trump has already said he will leave the White House if the College certifies.
Clearly, however, he isn't pleased with how Barr's DOJ handled the Hunter subject. And Donald will continue to press the issue as long as he's in office.
Source: The Daily Wire