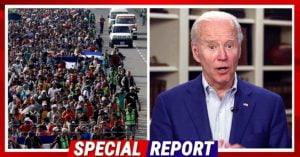 What's Happening:
Should we be surprised that as soon as Joe Biden was certified by Congress—a migrant caravan was formed?
Biden promised to undo all the work done by Trump to protect the Southern border. So, last week, word reached the U.S. that thousands are already prepared to force their way in.
But it seems like these migrants (perhaps organized by leftist activists) might have jumped the gun. With Biden's first week in office coming up, he might not want to look bad.
So, his people are telling these migrants to chill… for a little bit.
From Daily Wire:
The transition team for President-elect Joe Biden is warning thousands of Honduran immigrants flocking to the U.S. border seeking entry that they may end up waiting in Mexico for a while before their asylum claims can be processed…

"We have to provide a message that help and hope is on the way, but coming right now does not make sense for their own safety … while we put into place processes that they may be able to access in the future," the official said.
It seems like the Biden team just isn't up to making good on their promises to non-Americans. At least not yet.
Biden had promised to open our borders to migrants and non-citizens. But already they are admitting they don't have a plan.
Hmm… this seems like something they could have worked out a long time ago, right? Biden's been running for president for around two years. Couldn't he have formulated how he was going to help these migrants?
You'd think it would be a simple process, right? Not quite. The Trump administration worked hard to create a reasonable process for evaluating asylum-seekers.
Did Biden think he could just let them in all at once? Only now are his people realizing what an undertaking it is to actually lead the country.
It's a lot easier hiding in your basement, taking potshots at the real guy, huh Joe?
But will Biden's team come up with a process that actually works? Or will it devolve into the chaos we saw before Donald Trump?
Will Biden so bungle his promises, that we'll end up resorting to stronger measures in four years?
I guess we'll see, huh?.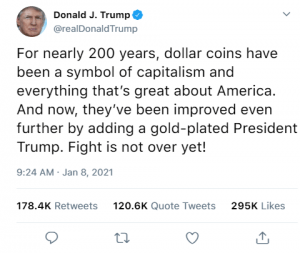 President Trump's victory coin is unsurprisingly on course to become the most popular Presidential coin in the history of our great country, and the liberals just can't deal with this.
So he's giving away a limited number of his exclusive victory coin for FREE, but not for long.
As you can imagine, these coins are hot property and it's impossible to know how many are left. So you need to act fast.
If you want to help the cause against the democrats and show your support for our country, what better way to do that than with President Trump's Victory coin?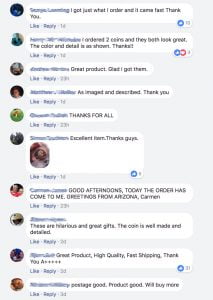 Source: Daily Wire