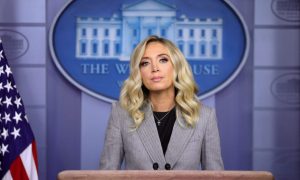 As the new Joe Biden administration is set to take the reigns of the White House this week many of President Donald Trump's staff are leaving early.
Among them is White House Press Secretary Kayleigh McEnany, who has officially left the White House just a week after her final press briefing, The Daily Mail reported.
McEnany had her last day in the West Wing on Friday and was seen packing up her office later that night, according to reports.  
Despite her departure, she reportedly remains on payroll and will continue working in her official capacity from her hometown of Tampa until Wednesday, when Joe Biden is sworn in. 
McEnany did not give a farewell press conference nor had she announced when she was leaving, but confirmed her exit on her personal Twitter account following media reports. 
McEnany's departure comes a week after she gave her last press conference at the White House briefing room where she addressed the violent riots at the Capitol in a short, rushed statement.  
"So many Great Americans.. As I leave the White House, I have the privilege of reading notes from incredible servants to our country. Men and Women whose names you do not know but who have served their country with pride until the end," she said on Twitter.
The press secretary called an impromptu press conference last Thursday to condemn the rioters in Washington DC who took the Capitol by siege.
"Let me be clear, the violence we saw yesterday at our nation's capital was appalling reprehensible and antithetical to the American way," she said at the press conference.
"What we saw yesterday was a group of violent rioters undermining the legitimate first amendment rights of the many thousands who came to peacefully have their voices heard, in our nation's capital.
"Those who violently besieged our Capitol, are the opposite of everything this administration stands for the core value of our administration is the idea that all citizens have the right to live and safety, peace and freedom," she said.
As abruptly as she called the press conference she left and did not take questions from the press as they shouted them at her.
President Trump will be leaving the White House this week, and his people have been considering giving him an elaborate send off.
But part of their plan, a military parade, was declined by the Pentagon, CNN
reported
.
Final plans for Trump's departure were still being laid a week ahead of time, but Trump has expressed interest to some in a military-style sendoff and a crowd of supporters, according to a person with whom he has discussed the matter. Whether that occurs at the White House, Joint Base Andrews or his final destination — Palm Beach International Airport — wasn't clear. Trump is expected to be ensconced in his Mar-a-Lago club or his nearby golf course by noon on Inauguration Day, when his term officially ends.
Having the outgoing president 1,000 miles away from the incoming one provides some logistical challenges. For instance, handoff of the nuclear football — a 45-pound briefcase that accompanies the president everywhere he goes in case of nuclear attack — won't be as simple as it would be if the two men were in each other's vicinity.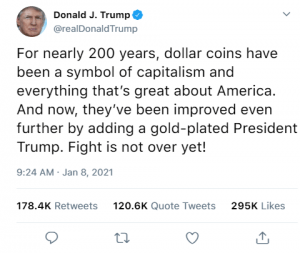 President Trump's victory coin is unsurprisingly on course to become the most popular Presidential coin in the history of our great country, and the liberals just can't deal with this.
So he's giving away a limited number of his exclusive victory coin for FREE, but not for long.
As you can imagine, these coins are hot property and it's impossible to know how many are left. So you need to act fast.
If you want to help the cause against the democrats and show your support for our country, what better way to do that than with President Trump's Victory coin?