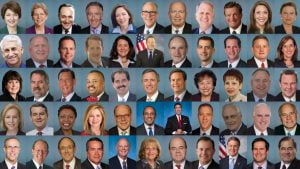 More House members have said they will object to the Electoral College vote on Jan. 6 as Sen. Josh Hawley (R-Mo.) announced he would join the effort.
Rep.-elect Ronny Jackson (R-Texas) said Tuesday that he will also object.
"I will vote on January 6th to CHALLENGE the Electoral College because the American people deserve a FREE and FAIR election! The FRAUD that DID take place on Election Day can't be allowed to stand!" Jackson wrote.
On Wednesday, Rep. Jeff Duncan (R-S.C.) said he will join the effort, which is being led by Rep. Mo Brooks (R-Ala.). President Donald Trump spoke with Brooks and several other Republican House members earlier this month and backs their effort.
"On January 6, 2021, I plan to object to the Electoral College certification from states that experienced these unprecedented issues like Arizona, Georgia, Michigan, Nevada, Pennsylvania, and Wisconsin," Duncan said in a statement. "I plan to object for the people of the Third District of South Carolina and the millions of Americans who are demanding transparency into the 2020 election. We the People know this is a pivotal decision for our great country. May God bless the United States of America."
Rep. Jeff Van Drew (R-N.J.) also said Tuesday he would object to Electoral Vote counts from states that did not abide by the rule of law.
Rep.-elect Marjorie Taylor Greene (R-Ga.) said in an interview this week she has received word that even more lawmakers will join.
"We refuse to certify a stolen election," she told the Kyle Olson Show. "As members of Congress, it's our duty to protect the integrity of our elections."
Meanwhile, Hawley became the first senator to announce that he will object to the certification during the Joint Session of Congress.
"I cannot vote to certify the electoral college results on Jan. 6 without raising the fact that some states, particularly Pennsylvania, failed to follow their own state election laws," Hawley wrote in a statement on Wednesday. "And I cannot vote to certify without pointing out the unprecedented effort of mega-corporations, including Facebook and Twitter, to interfere in this election, in support of Joe Biden," he added.
Other than Hawley, Sens. Ted Cruz (R-Texas), Rick Scott (R-Fla.), Kelly Loeffler (R-Ga.), and Rand Paul (R-Ky.)—as well as Sen.-elect Tommy Tuberville (R-Ala.)—have said they are open to the idea of objecting to electors. The move requires both a senator and a representative to carry out, which then triggers a two-hour debate and congressional vote on whether a state's electoral votes are valid.
But several GOP senators, including No. 2 Republican John Thune (R-S.C.), have said the bid will fail.
"The thing they've got to remember is, it's just not going anywhere. I mean, in the Senate, it would go down like a shot dog," Thune told reporters last week. "And I just don't think it makes a lot of sense to put everybody through this when you know what the ultimate outcome is going to be."
And House Speaker Nancy Pelosi (D-Calif.), speaking to reporters Wednesday, said she is confident Joe Biden will be declared the victor in Congress next week.
"I have no doubt that" it will happen, the California Democrat said.
CLAIM 1 FREE OR CLAIM A DISCOUNT + FREE SHIPPING TODAY!