The Senate on Monday voted 81-18 to break a Democratic filibuster on a stalled government spending bill, clearing the way for Congress to approve the stopgap measure and end the three-day government shutdown.
Democrats effectively backed off their opposition, after being given assurances from majority Republicans.
Before the vote, Senate Minority Leader Sen. Chuck Schumer made clear that Democrats would supply the GOP-controlled Senate with the votes needed, in exchange for "fair" and immediate efforts to consider legislation that would protect illegal immigrants brought to the United States as children. It was a stark contrast from his position just a few days ago.
"We will vote today to reopen the government," Schumer, a New York Democrat, said on the Senate floor. "In a few hours, the government will reopen."
The 100-member, Republican-controlled chamber will now need only a simple majority to pass the temporary spending bill that would keep the government open until Feb. 8. The House would then have to approve the bill, sending it to President Trump's desk.
"I am pleased that Democrats in Congress have come to their senses and are now willing to fund our great military, border patrol, first responders and insurance for vulnerable children," Trump said in a written statement Monday.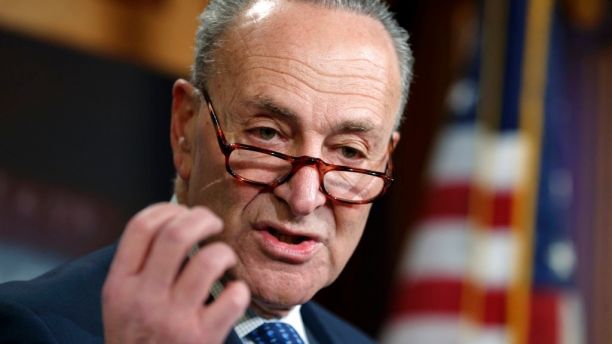 During Monday's press briefing, White House Press Secretary Sarah Sanders said the administration expects the bill to make it to the president's desk late afternoon or early evening Monday and the government to open at full capacity on Tuesday morning.
Sanders pushed back against the notion from Democrats that Trump wasn't doing enough behind the scenes during the shutdown. She said Trump was busy working the phones with lawmakers and Cabinet officials.
"The president was putting pressure and standing firm on exactly what he was willing to do and what he wasn't," Sanders said. "And it very clearly worked."
The funding and reopening of the government would allow U.S. military personnel to be paid, end the furlough of nearly 1 million federal workers and resume all federal services and operations.
But congressional lawmakers made clear after the test vote that they're still faced with challenges, like how to fund hurricane disaster relief and craft a comprehensive immigration reform bill on which both parties can agree.
"We still have a lot more work to do," said Sen. Joni Ernst, R-Iowa.
After days and weeks of blaming and finger-pointing, a bipartisan group of senators met Sunday and brokered the deal in which rank-and-file members would provide the 60 votes in exchange for Senate leaders' promise to immediately proceed to immigration reform.
Democrats largely had opposed the stopgap spending bill because it did not include provisions to protect the illegal immigrants from deportation under former President Barack Obama's Deferred Action for Childhood Arrivals executive order. Trump last year set a deadline of early March to end the protections, but has indicated he wants to provide permanent protections for the young illegal immigrants — along with border security, particularly funding for his U.S.-Mexico border walll.
Under the apparent deal to end the filibuster, Schumer said Monday they would negotiate on immigration, and immediately consider such legislation if there's no agreement by Feb. 8.
Schumer lauded the bipartisan group's weekend efforts and suggested the group could lead efforts to replace DACA with permanent, legislative protections.
However, he also needled Trump, whom he said on Friday rejected his compromise plan that included money for the border wall.
"Today we enter the third day of the Trump shutdown," Schumer said before saying they would provide the votes to get to the spending bill. Republicans call it the "Schumer Shutdown."
Senate Majority Leader Mitch McConnell, R-Ky., then thanked Schumer and said: "I think if we've learned anything during this process, it's that a strategy to shut down the government over the issue of illegal immigration is something the American people didn't understand and would not have understood in the future. So I'm glad we've gotten past that."
With Republicans having just 50 senators available to vote Monday, they needed the support of roughly a dozen Democratic senators to break the filibuster. They got 33.
The 18 senators who didn't vote to end debate included Republican Sens. Mike Lee, of Utah, and Rand Paul, of Kentucky.
The 15 Democrats in opposition were Sen. Richard Blumenthal and Chris Murphy, both of Connecticut; Cory Booker and Bob Menendez, both of New Jersey; Catherine Cortez Masto, of Nevada; Kirsten Gillibrand, of New York; Mazie Hirono, of Hawaii; Patrick Leahy, of Vermont; Ed Markey and Elizabeth Warren, both of Massachusetts; Jon Tester, of Montana; Ron Wyden and Jeff Merkley, both of Oregon; and Kamala Harris and Dianne Feinstein, both of California. Sen. Bernie Sanders, a Vermont independent, also voted in opposition.
Arizona GOP Sen. John McCain did not vote because he's home fighting cancer.
McConnell on Sunday night indicated a deal was in the works to break the filibuster, in exchange for immediately addressing Democrats' desire for immigration reform.
"When the Democrat filibuster of the government funding bill ends, the serious, bipartisan negotiations that have been going on for months now to resolve our unfinished business — military spending; disaster relief; health care; immigration and border security — will continue," he said Sunday in announcing the Monday vote.
Early Monday, before the vote, the Trump White House and Capitol Hill Republicans cranked up the pressure on Democrats to abandon their immediate demands for immigration measures and vote in support of the temporary spending bill.
"They shut down the government," White House counselor Kellyanne Conway told "Fox & Friends" on Monday morning. "The pressure is on them."
Trump tweeted that Democrats shut down the government to appease the "far left base" and are now "powerless" to change course.
Democrats have shut down our government in the interests of their far left base. They don't want to do it but are powerless!

— Donald J. Trump (@realDonaldTrump) January 22, 2018
"The Democrats are turning down services and security for citizens in favor of services and security for non-citizens. Not good!" he tweeted.
The Democrats are turning down services and security for citizens in favor of services and security for non-citizens. Not good!

— Donald J. Trump (@realDonaldTrump) January 22, 2018
The vote Monday was the GOP-controlled Senate's second attempt to break the filibuster, after failing to get the required 60 votes Friday. The Friday night vote was 50-49.
Surce:foxnews.com
Read more trump news in our President Trump category on following link .