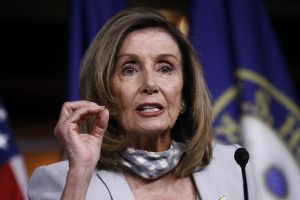 House Speaker Nancy Pelosi is facing a request from not one, but seventeen GOP members. And this request involves a top Democrat who has recently come under heavy scrutiny.
Pelosi received the letter with the demand on Tuesday, and it involves potential party ties to China. Any dealings with the Communist country will undoubtedly receive plenty of attention, after all.
And in this case, many Republicans want Rep. Eric Swalwell gone.
Swalwell, a member of the House Intelligence Committee, has faced serious allegations concerning his supposed ties to a Chinese spy.
This spy infiltrated America by posing as a college student, then forging connections with U.S. officials. She even allegedly slept with a couple of Midwestern mayors.
And Swalwell may have a connection to this woman, which is why the GOP thinks he needs to go.
Via Fox News:
A group of 17 Republican House members sent a letter to Speaker Nancy Pelosi Tuesday urging her to 'immediately remove' Democratic Rep. Eric Swalwell from the House Intelligence Committee.
The House members say that because of Swalwell's position on the House Permanent Select Committee on Intelligence, he now poses an "unacceptable security risk."
The 17 Republicans are worried that Swalwell could have access to some very sensitive information, and this poses a problem.
The committee has "information critical to our national defense," which is why they believe Swalwell simply shouldn't be allowed to continue in his role.
They also reminded Speaker Pelosi that she slammed former Attorney General Jeff Sessions as being "not fit to serve" in 2017. This was after a report that said Sessions had failed to disclose meetings with a Russian ambassador.
At the time, Pelosi called for Sessions to resign.
Now, the GOP claims Swalwell "withheld information for five years from the House Intelligence Committee about an ongoing Chinese espionage operation targeted at him and his own colleagues."
They add that this is more "serious and unusual" than Sessions' interactions with a Russian diplomat.
It's true that Fang Fang – also known as Christine Fang – targeted Swalwell, whom she met when he was a city councilman. However, it isn't certain what transpired between the two.
The FBI believes Fang never was able to access classified information courtesy of Swalwell.
Even so, Republicans say the entire situation is too questionable and potentially too dangerous, so they want Pelosi to remove Swalwell ASAP.
Source: Fox News