It was reported earlier today that a marine, LCpl. Hunter Clark, is now under investigation after he spoke at the Sept. 25 "Save America" Trump rally in Perry, GA.
U.S. House Rep Marjorie Taylor Greene (R-GA) expressed her outrage at the news in a tweet and compared it to the Jan. 6 "involvement" of the FBI not being under investigation.
Greene also attended the rally and shared a picture of herself with Clark in the tweet while noting that Clark was not in uniform so she doesn't believe it should be considered a violation.
"LCpl Hunter Clark, who saved a baby in Afghanistan, is under investigation for thanking everyone for their support at a Trump rally, but the FBI's involvement in J6 is not?" Greene asked in the tweet.
Greene pointed out, "Clark said nothing political nor wore his uniform. But the FBI was involved in the planning & riot on J6."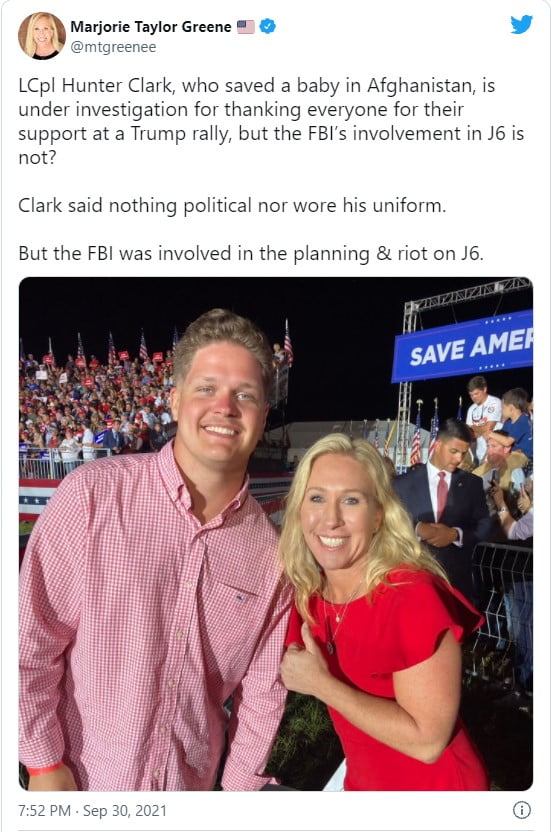 TPUSA's Benny Johnson also reacted to the news with outrage and referenced the detainment of Lt. Col. Stuart Scheller, which we have reported about multiple times now.
Johnson explained, "First Lt. Col. Scheller got THROWN in the brig for demanding accountability. Now a hero Marine who rescued babies in Afghanistan, LCpl Hunter Clark is under investigation."
"Meanwhile nothing happens to Gen. Milley and the people who are responsible for the disastrous withdrawal," Johnson added.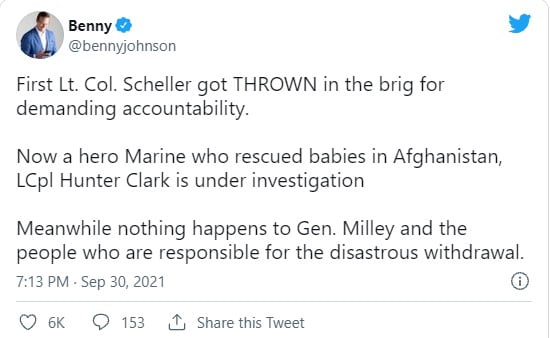 According to Task & Purpose, Clark's command said that he was not the Marine shown in an Aug. 19 viral video hoisting an infant above the razor wire outside the airport.
Capt. Kelton J Cochran, a spokesman for the 24th MEU, said, however, that he cannot confirm if Clark is one of the other Marines in that video.
Cochran noted that there were several incidents during the evacuation of Afghans handing children to U.S. troops, Task & Purpose reported.
A clip of Clark's brief appearance was tweeted out by RSBN on Saturday and they said, "We are so thankful for the men who have served this country. Thank you, President Trump for recognizing the heroic actions of LCpl Hunter Clark! Thank you, LCpl Clark!"
We are so thankful for the men who have served this country. Thank you, President Trump for recognizing the heroic actions of LCpl Hunter Clark!

Thank you, LCpl Clark! pic.twitter.com/qP43JIn2pe

— RSBN 🇺🇸 (@RSBNetwork) September 26, 2021