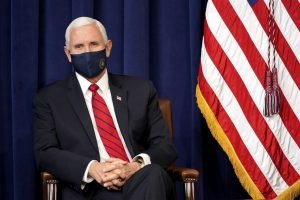 They've awoken a sleeping dragon
This might just be the most fired up we've seen Mike Pence in quite a while.
During a recent speech, Pence dropped a huge hint on what's coming for January 6th.
The Vice President definitely doesn't seem to want to throw in the towel yet, and is vowing to get every illegal vote thrown out.
Pence also declared that he's going to fight to win back Georgia!
This man is ready to rumble!
Check out his speech:
And Trump supporters are LOVING this!
Why do people doubt him? What has he shown that makes people think he is compromised? 

Was a great speech… watched the whole thing!

Pence bringing the fire!! I like this!
If he comes through I'll personally chisel his Indiana face on Mount Rushmore myself.
The vice president is on fire…they keep screwing around there gonna see the wrong side of him..
Mighty Mike Pence. Love it!
Mike Pence is a BOSS!!!!
You watch!!!! Holy Pence!

Have never seen VP Pence so fiery! Bless him!
They pissed off a sleeping lion.