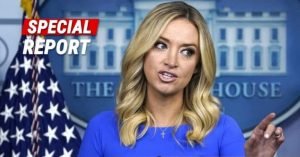 What's Happening:
The media continues to push their declaration that Joe Biden won the election. They ignore real concerns of irregularities in many states.
(And that's just for starters.)
Many Americans were shocked to learn "conservative" Fox going along with this narrative. Even Stuart Varney at Fox Business appears to be pushing this idea.
He even asked Kayleigh McEnany if Trump will attend Biden's inauguration. And this is what she had to say:
While appearing with Stuart Varney, Kayleigh McEnany was asked if President Trump will attend Biden's inauguration ceremony.

Varney suggested it would look bad and like "sour grapes" if he did not attend.

WH Press Sec. Kayleigh McEnany, appearing on Fox Business as Trump Campaign Adviser, on whether Trump will attend President-elect Biden's inauguration ceremony:

"I think the president will attend his own inauguration." pic.twitter.com/uHTDneIiXx

— The Recount (@therecount) November 13, 2020

With a smile, McEnany replied "I think the president will attend his own inauguration. He would have to be there in fact."

The leftist media is working overtime to push the idea that Biden won without the need for a transparent look at the election.

Most of them continue to claim there is "no" evidence of wrongdoing, despite new reports coming out daily of concerns, investigations and lawsuits.

Varney of Fox Business seems to have pressured the White House press secretary with the same narrative. Instead, she stood her ground, promising Trump will attend his own inauguration for his second term.

That's not what liberals want to hear. These are the same people who pushed a 2+ year investigation over nothing. The same people who endorsed impeachment over a phone call.

Are we really surprised they are pushing this Biden victory narrative without even acknowledging the process is far from over?

Trump promised to drain the swamp, folks. Of course, the swamp would fight back. And the MSM is just as swampy as D.C., as we are seeing.

The fact remains that those in power will do anything to stop Trump from challenging the election results, demanding recounts and recanvassing, and taking it to court.

It might be because he'll uncover something that will hurt many swamp dwellers. So they are trying to stop it before it gets started.

But I have a feeling they've already failed.

Source: Red State Watcher