New claims for unemployment benefits fell to their lowest level since 1969 last week.
Economists had been expecting 226,000 new jobless claims, a rise over the previous week. Instead, claims unexpectedly fell by 10,000 to 210,000 in the week ending on February 24.
The more stable four week moving average of claims also declined, dropping by 5,000 to 220,500. That is also the lowest level in 49 years.
Slightly more people were added to the unemployment rolls than came off them, pushing the number of continuing claims up by 57,000 to 1.93 million.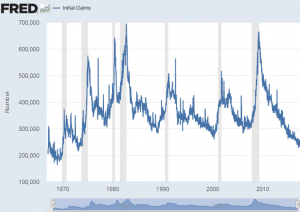 Surce:breitbart.com
Read more trump news in our President Trump category on following link