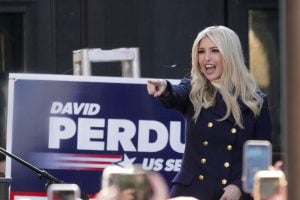 What's Happening:
President Trump set the standard for leadership in many ways. Whenever he leaves office, Americans will be clamoring for another Trump to take his place.
Many have wondered if one of his sons, especially Donald Trump Jr., would take up the family's political mantle.
But it might not be Jr who followers in their father's footsteps. Because word is that one of his closest allies—and children—might take the Senate by storm.
And she's gunning for a former Republican opponent of her father. From Daily Mail:
Speculation has been swirling that Ivanka Trump will run for the US Senate in Florida in 2022.

The businesswoman, 39, could be set to challenge Marco Rubio in the race after it was reported that she would like a political career of her own after working for her father as an advisor during his presidency.

It comes after it was revealed that she and her husband Jared Kushner have bought a plot of land in Miami.
Ivanka herself hasn't confirmed anything, but rumors are swirling about her political ambitions after she and her husband bought land in Miami.
Some have speculated that she might go after Marco Rubio's Senate seat. The Republican hasn't been a star of the party in recent years. He's taken flack again and again for appearing to not support Trump's vision.
He recently got heat for calling Biden "president-elect," even though the party continues to challenge the election.
It's possible Ivanka will have a powerful advantage running for that Senate seat. Not only is she beloved by many conservatives—she'll most likely have the endorsement of her father.
Trump has an incredible record of politician endorsement. Very rarely does a candidate he back loses their races.
It's not taking a gamble to say that if Ivanka ran for office, she would be very likely to win.
So, the question is—will she run?
That might have to do if her father ends up getting a second term. 2022 is two years away. If Trump is in office, she might prefer to stay in his administration.
But if Trump leaves in January, all bets are off. Ivanka might want to begin her own political career, to carry on the MAGA agenda.
Do you think Ivanka should run and continue her father's legacy?