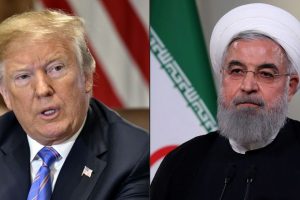 Interesting the language he uses is "Trumpism." It's eerily similar to the language of the left and our own media
This week, Hassan Rouhani, Iran's President, threatened Pres. Trump, by saying, "in a few days, the life of this criminal will end."
Rouhani, while speaking to the Iranian Cabinet, cited the "martyred" Gen. Qassem Soleimani, killed in an airstrike a year ago ordered by Trump.
Rouhani allegedly said: "In a few days, the life of this criminal will end, and he will go to the dustbin of history. One of the effects of this stupid and disgraceful act," Rouhani said of the airstrike that killed Soleimani, "was that Trumpism ended."
Interestingly the language he uses is "Trumpism." It's eerily similar to the language of the left and our own media. It worries me that the left would hand Trump to Iran without losing a second of sleep.
The only increase in "regional stability" since the nation of Israel was first established has come through the work of Pres. Trump.
Middle Eastern nations that for over 60 years have refused to acknowledge our regional ally's right to exist are now changing that policy and establishing diplomatic relations with them. Rouhani remains the delusional leader of a rogue regime.
Rouhani added, "We are pleased about this, and we believe that the period after Trump will be a better condition for regional and global stability. As I said after the martyrdom of Martyr Soleimani, I emphasize again that if you cut off Martyr Soleimani's hand, we will cut off your leg from the region. We will continue the resistance until that day."
Don't you find it ironic Iran really didn't say much during Pres. Trump's time in office, and now he feels Trump is almost out the door, he's selling wolf tickets. They already smell that spineless Joe Biden in his basement. Proves the point, "peace thru strength" and "walk softly and carry a big stick" and be ready to use it if necessary. Biden won't do any of those things. Pathetic pandered
I had wished since the 1980's that when the leadership of Iran gathered, our military took care of business so we wouldn't be in this situation right now. It's been a long time coming, and it doesn't seem like we're close to getting that wish accomplished. Can you imagine what the world reaction would be? It would send a message to all the bad actors in the world. This has been long overdue.
If I were President and any nation uttered a threat like this against me, I would make sure to take it seriously and responded so they wouldn't think about publicly repeating it.
The Iranian people love Trump because he called their government to task. See IranAliveMinistires.org. Please pray for revival in Iran.
Source: republicanstory.com