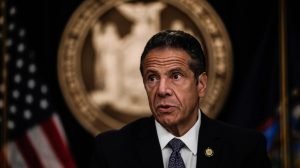 Throughout the pandemic, citizens have often questioned the orders and guidelines issued by certain state governors. Some state leaders have been stricter than others in 2020.
One of those was New York Governor Andrew Cuomo, who issued a series of lockdown rules designed to stem the coronavirus tide. And NY citizens weren't big fans of some of those rules.
Take the faithful, for instance.
Cuomo threw down an executive order that imposed limitations on religious gatherings; in some "hot spots," the total number of attendees was capped at 10 or 25 people depending on infection rate.
On top of which, all non-essential businesses were required to reduce their in-person workforce entirely (by 100 percent). And restaurants could only do takeout and delivery.
But the the religious gathering rule is the one a federal appeals court just overturned:
From Fox News:
A New York federal appeals court on Monday ruled against some of the coronavirus-related restrictions put in place by New York Gov. Andrew Cuomo to stop the spread of the virus.
The U.S. Court of Appeals for the Second Circuit stopped the enforcement of the religious gathering order, much to the delight of the plaintiffs.
The lawsuit came from several religious groups in New York, including the Roman Catholic Diocese of Brooklyn and Agudath Israel of America.
They argued that Cuomo's restrictions were unconstitutional — that the rules were in violation of the Free Exercise Clause of the First Amendment. And the high court agreed.
Specifically, the ruling stated that the Governor's mandate "placed greater restrictions on religious gatherings than secular ones," which is something many citizens of faith have been railing against.
For example, some members of the Orthodox Jewish community have called out Cuomo in the past for unfairly targeting their community.
In this case, the court ruled that the Governor has indeed been biased against religious gatherings. Or at least, his lockdown orders appear to be biased against those of faith.
It's likely that plenty of individuals will see this as a victory for Freedom of Religion and Freedom of Speech, and we could see similar lawsuits in other states that severely limited religious gatherings.