What's Happening:
If you believe the mainstream media, Biden is God's gift to America. Their polls claim Americans far and away support him.
But it's obvious the "honeymoon" is already over. It's not just conservative outraged at Biden's extreme number of orders already signed. Labor unions and even the New York Times were upset.
Biden trashed promises of "unity" to force an agenda outside of help from Congress.
And only one daily polling firm appears to be telling the full story. In fact, Biden's approval is lagging behind Trump, big time.
From Twitter:
Biden vs Trump: Initial Daily Job Approvals The more you know …
Here's a closer look at Biden's first days in office:

And Trump's first days: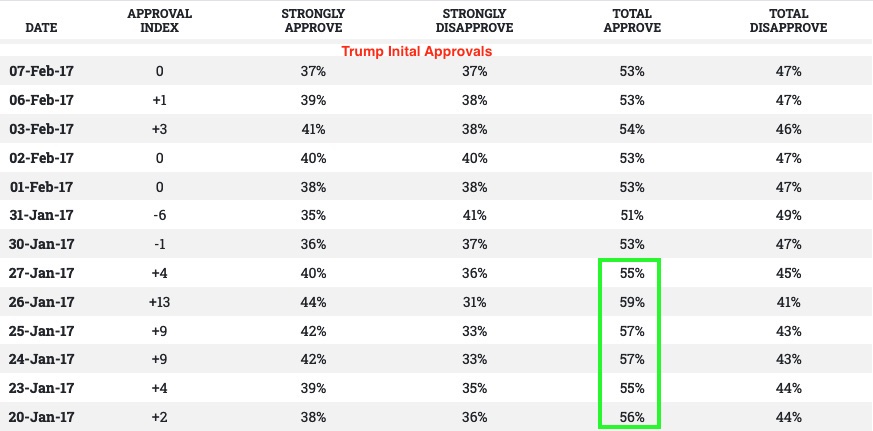 According to Rasmussen's daily approval poll, Biden is already sinking. And he's behind what Trump was at during this early stage of his presidency.
Hmm… I wonder why? Perhaps it's because many Americans doubt Biden's leadership and ability to bring the country together?
He promised unity and a glorious first 100 days. Instead, he is largely hiding from the country as he rams through a mountain of executive orders.
And that hole, killing thousands of jobs thing really ticked off Americans.
And it's not just Rasmussen showing sinking approval numbers. A new Quinnipiac poll has him under 50%.
The verdict is pretty clear. Americans are already upset with Biden's leadership—and they are making their opinions known.
But you won't hear about if from the MSM, only outsets with news you can trust.
Our prediction? Biden's approval might sink even lower in the months to come.
Key Takeaways:
Rasmussen has Biden's approval below 50, lower than Trump's during the same time in his presidency.
A Quinnipiac poll also has Biden's approval sinking fast.
This comes as Biden reneged on promises of unity to kill thousands of jobs.
Source: Twitter