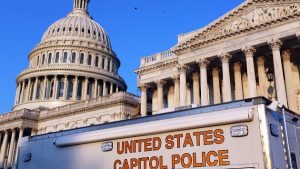 US Attorney Michael Sherwin confirmed to CBS reporter Catherine Herridge that his office has opened a federal excessive force investigation into the shooting of Ashli Babbitt, an unarmed woman entered the US Capitol building on Wednesday.
The same US Attorney's Office has also opened a homicide investigation into the death of Capitol Hill Officer Brian Sicknick.
Ashli Babbitt, a 14-year veteran from San Diego who served 4 tours with the US Air Force as a high-level security officer was shot and killed
by Capitol Police on Wednesday.
Ashli Babbitt was shot through a window on a closed door by an officer.
Babbitt appeared to be standing behind a group of people who were attempting to gain entry into the chamber.
Police had barricaded the doors and were attempting to keep the patriot protesters out — and then drew their weapons.
They opened fired and shot Ashli in the neck.
#CapitolRiots NEW: US Attorney Michael Sherwin confirms @CBSNews his office has opened a formal, federal excessive force investigation related to the shooting death of Ashli Babbitt who was shot by US Capitol Police Wednesday within the Capitol building.  Sherwin has assigned

— Catherine Herridge (@CBS_Herridge) January 9, 2021
She was wheeled out of the Capital in a stretcher covered in blood and later pronounced dead.