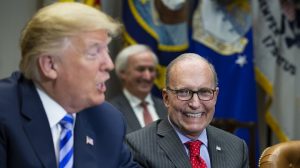 Larry Kudlow, one of President Donald Trump's top economic advisers, said Friday he will not resign.
Kudlow told CNBC via text that he will remain in his position as National Economic Council director until the end of Trump's term. He added to The Hill that he will work for a few days a week and take some vacation time in the remaining 12 days left in the term.
Kudlow, who served in the Reagan administration, joined the Trump administration in 2018.
Several top administration officials, including Transportation Secretary Elaine Chao and Education Secretary Betsy DeVos, resigned this week after protesters stormed the U.S. Capitol.
Chao on Jan. 7 released a letter she sent to the department in which she said the breach of the Capitol was "a traumatic and entirely avoidable event" and sought to connect it to how the president spoke at a rally shortly before it occurred.
Others have announced plans to remain, including Acting Secretary of Defense Christopher Miller and Energy Secretary Dan Brouillette.
"[I] will execute the time-honored peaceful transition of power to President-elect Biden on January 20," Miller, who recently took over from Mark Esper, said in a statement.
Lower level officials have also been resigning, including deputy national security adviser Matthew Pottinger.
White House press secretary told reporters on Thursday that the administration is working on "an orderly transition of power."