Capitol police officers fought back "valiantly" against protesters storming the U.S. Capitol on Jan. 6, Sen. Roy Blunt (R-Mo.) said Sunday.
"I resent any sense that the Capitol Police didn't push back, fight back valiantly get out there and stand between first the building and then the people in the building that they're there to protect," Blunt told CBS News' "Face the Nation."
"The Capitol Police fought back. You can do anything with looking at film, not knowing what you're talking about. I do know when you're overwhelmed in law enforcement, one of the things you do is try to step back and regroup rather than just let yourself get surrounded. … And I deeply resent any suggestion that these officers didn't do everything they could do."
Blunt chairs the Senate Committee on Rules and Administration. He announced with four other senators on Friday a bipartisan probe of how law enforcement agencies allowed protesters to gain access to the Capitol.
They said that "security failures" led to the breach. "We plan to conduct oversight and hold bipartisan hearings on these horrific events, and work together to make the necessary reforms to ensure this never happens again," they said.
Lawmakers will be looking at the planning of the illegal entry and whether agencies were in place to support the Capitol Police.
"Certainly the support from the D.C. police was quick and incredibly helpful," he said. "They were here. They were here almost immediately when asked to be. I think we have to think about why the National Guard didn't get here quicker."
Prepare for the impending power outage.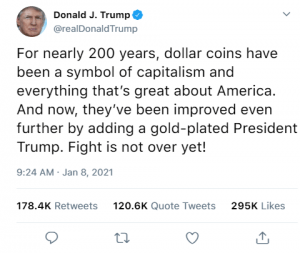 President Trump's victory coin is unsurprisingly on course to become the most popular Presidential coin in the history of our great country, and the liberals just can't deal with this.
So he's giving away a limited number of his exclusive victory coin for FREE, but not for long.
As you can imagine, these coins are hot property and it's impossible to know how many are left. So you need to act fast.
If you want to help the cause against the democrats and show your support for our country, what better way to do that than with President Trump's Victory coin?



Approximately 340 D.C. National Guard personnel were activated before Jan. 6 but none appeared to be in position to aid the Capitol police when protesters overwhelmed them and stormed the Capitol.
The storming took place as supporters of President Donald Trump rallied in Washington. Some of those arrested for taking part in the storming were identified as Trump supporters while at least several others were not, including a Black Lives Matter activist. Five people died, including a Capitol police officer from injuries he suffered during the storming and a woman who was shot by a different officer. Three others died due to medical reasons.
Washington Mayor Muriel Bowser, a Democrat, said Sunday that some of those who entered the Capitol "were trained people in many cases, former military, former law enforcement."
That's part of why she's asking the Department of Homeland Security to extend the national security special event date for President-elect Joe Biden's inauguration from Jan. 19 back to Jan. 12 and requesting they extend the perimeter of their coverage area to include the Capitol.
Bowser sent a letter on Jan. 5 telling the Pentagon and Department of Justice that she wasn't requesting federal law enforcement personnel and discouraged any deployments outside the D.C. national Guard without notification. But she said she doesn't think the letter played a role in the failure to prevent and then respond quickly to the breach.
"That letter calls attention to the federal government or other federal policing agencies and asks the federal government to coordinate with us if they were going to be on D.C. streets," she said. "That letter has nothing to do with the Capitol or other federal facilities."
Both Bowser and Blunt were speaking on CBS' "Face the Nation."