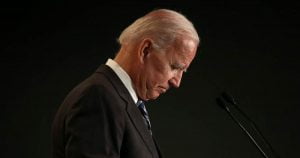 In the months leading up to the presidential election, Donald Trump and other Republican leaders accused journalists of feeding softball questions to Democratic candidate Joe Biden.
They claimed reporters purposely took it easy on Biden, and routinely avoided giving him more difficult questions. And when he received the tough questions, Biden was accused of dodging them.
This latest piece of news won't help his case, either.
According to a Daily Wire report last week, reporters were starting to become "frustrated" with Biden and his team.
They believe Biden and his campaign have a group of "favored journalists," who are typically called upon during press conferences. At the same time, Biden seems to avoid taking questions from other journalists.
Then, during a Zoom conference held last week, a reporter from The Daily Beast asked the sessions to go longer, or hold more frequent briefings. A few other examples:
'Any chance you can take a few more questions? There are a lot of folks here with questions,' Zeke Miller from The Associated Press added.

'Is there a point in saying we want to ask questions if you only call on the same small group every week?' another asked.
Reporters continued to complain afterward, and the Biden team's response is controversial:
Instead of entertaining the possibility of longer or more frequent sessions, or taking more questions from different journalists, the team just shut down the entire chat.
This according to "at least one reporter" who attended the Zoom conference.
And Politico editor Sam Stein added:
The Biden transition team appears to have disabled the public chat function on its transition zoom calls, a place where I and others had been routinely complaining to them to take more questions.

— Sam Stein (@samstein) December 30, 2020
In recent weeks, Biden has been accused of specifically avoiding questions about his son's overseas business dealings.
All those questions have been met with a standard – and some would say dismissive – answer from Biden's team:
President-elect Biden is deeply proud of his son, who has fought through difficult challenges, including the vicious personal attacks of recent months, only to emerge stronger.
However, this obviously isn't good enough in the eyes of most reporters.
Biden's team has been quoted in the past as saying they value "transparency," but they might sound hypocritical to some critics.
The question now is, will Biden continue to avoid the more difficult questions throughout his presidency, provided he gets inaugurated on January 20?
Source: The Daily Wire