The 60th Grammy Awards kick off Sunday night, January 28, at 7:30 ET live from Madison Square Garden in New York City.
This year's show marks the first time in 15 years that the Grammys are being held in New York.
Jay-Z leads all artists with eight nominations this year, and he'll look for a big night for his album 4:44 amid his Twitter feud with President Donald Trump. Kendrick Lamar follows with seven nominations while pop/funk phenom Bruno Mars has six nods.
The Grammys have recently become as much about the performances as the actual awards, and viewers can expect some high-profile and politically-charged performances from Maren Morris and a slew of country stars, who will perform a tribute to victims of gun violence at musical events this year, as well as from Kesha, who is expected to perform her hit "Praying" along with a full chorus.
Stars are also wearing white roses to this year's show as a statement of solidarity with victims of sexual abuse, and host James Corden has promised the show will feature some prominent #MeToo-focused moments.
Follow along as the Breitbart News Big Hollywood team brings you live updates from the show tonight, including winners, commentary and analysis, and of course, the evening's best fashion, courtesy of John Binder.
All times Eastern. Latest updates at the top.
---
11:05 p.m. – Well, that's all, folks. Bruno Mars and Kendrick Lamar walked away with big wins tonight, while Jay-Z left empty-handed. Some of the night's best performances included SZA, Elton John duetting with Miley Cyrus, and Bruno Mars performing "Finesse."
The show was probably even more political than it was last year. Just scroll down this livewire to see all the best moments.
Come back tomorrow for more updates, follow-ups, and analysis from the Big Hollywood team.
-D.N.
-J.H.
-J.B.
11:00 p.m. – Here come Bono and The Edge, yet again (why?), to present Album of the Year. 
Winner: Bruno Mars, 24K Magic
With eight nominations going into the night, Jay-Z was completely shut out, failing to win in any category.
10:52 p.m. – Logic, Alessia Cara, and Khalid perform "1-800-273-8255."
This should be the last performance before Album of the Year.
10:50 p.m. – In Memoriam segment, presented by Chris Stapleton and Emmylou Harris.
Check Twitter to find out who they inevitably left out this year.
10:43 p.m. – Corden pretends as if he's going to introduce former President Obama, but then just introduces Recording Academy president and CEO Neil Portnow.
10:33 p.m. – Alicia Keys presents the Grammy for Record of the Year.
Winner: Bruno Mars, "24K Magic"
10:29 p.m. – SZA performes "Broken Clocks." This, the Elton John/Miley Cyrus duet, and Bruno Mars are the performances of the night.
10:27 p.m. – Home stretch, dudes. 30 minutes to go.
10:17 p.m. – Patti LuPone performs a tribute to Andrew Lloyd Webber.
10:11 p.m. – Jokes: James Corden's parents snuck out and saw Hamilton in the middle of the show.
Can't really blame them.
Ben Platt performs "Somewhere."
10:03 p.m.  – Elton John and Miley Cyrus perform "Tiny Dancer."
9:58 p.m. – John Legend, Cher, Snoop Dogg, Cardi B, and DJ Khaled do a segment where they read out excerpts of Fire and Fury, which James Corden jokes will be a contender for Best Spoken Word Album at next year's Grammys.
This may break the record for Most Woke Grammys Ever.
9:55 p.m. – Sting presents the Grammy for Song of the Year.
Winner: Bruno Mars, "That's What I Like"
9:46 p.m. – U2 delivers a woke, immigration-themed performance of "Get Out of Your Own Way."
As Jerome just helpfully pointed out, the just-released music video for the song featured the KKK visiting Trump's White House.
So woke.
9:42 p.m. – Camila Cabello wades into the immigration debate while introducing U2.
"This country was built by Dreamers, for Dreamers, chasing the American Dream."
"I'm here on this stage tonight because just like the dreamers my parents brought me to this country with nothing in their pockets but hope. They showed me what it means to work twice as hard and never give up, and honestly, no part of my journey is any different from theirs. I'm a proud Cuban-Mexican immigrant, born in eastern Havana, standing in front of you on the Grammy stage in New York City, and all I know is, just like dreams, these kids can't be forgotten and are worth fighting for."
9:35 p.m. – Janelle Monae provides the evening's first #MeToo moment and introduces Kesha, who performs her mega-hit "Praying."
Monae:
"We come in peace but we mean business, and to those who would dare try and silence us, we offer you two words: Time's Up. We say time's up for pay inequality. Time's up for discrimination. Time's up for harassment of any kind. And time's up for the abuse of power."

"Because, you see, it's not just going on in Hollywood, it's not just going on in Washington, it's right here, in our industry, as well."
9:25 p.m. – Maren Morris, Eric Church, and the Brothers Osborne perform a cover of the Eric Clapton classic "Tears in Heaven," dedicated to the 58 people who lost their lives in the shooting at a country music concert in Las Vegas last year.
Video coming shortly.
9:21 p.m. – Hailee Steinfeld and Donnie Wahlberg present Best Country Album.
Winner: Chris Stapleton, From a Room Vol. 1
9:17 p.m. – More on Kendrick Lamar's "Jay for President" shout-out from his Best Rap Album acceptance speech earlier in the night, from Jerome Hudson.
Article here.
9:12 p.m. – DJ Khaled, Rihanna, and Bryson Tiller perform "Wild Thoughts."
9:03 p.m. – Sting and Shaggy perform "Englishman in New York."
8:58 p.m. – Trevor Noah presents Best Comedy Album.
Winner: Dave Chappelle, The Age of Spin
8:53 p.m. – Katie Holmes introduces the next performers, Bruno Mars and Cardi B, performing "Finesse."
Bruno Mars is just an incredible entertainer and showman. Probably the only great performance of the night so far.
Binder on Cardi B: Cardi B attempted to go for a 1990s-inspired hip-hop performance ensemble, but looked more like a beach ball than Salt-N-Pepa.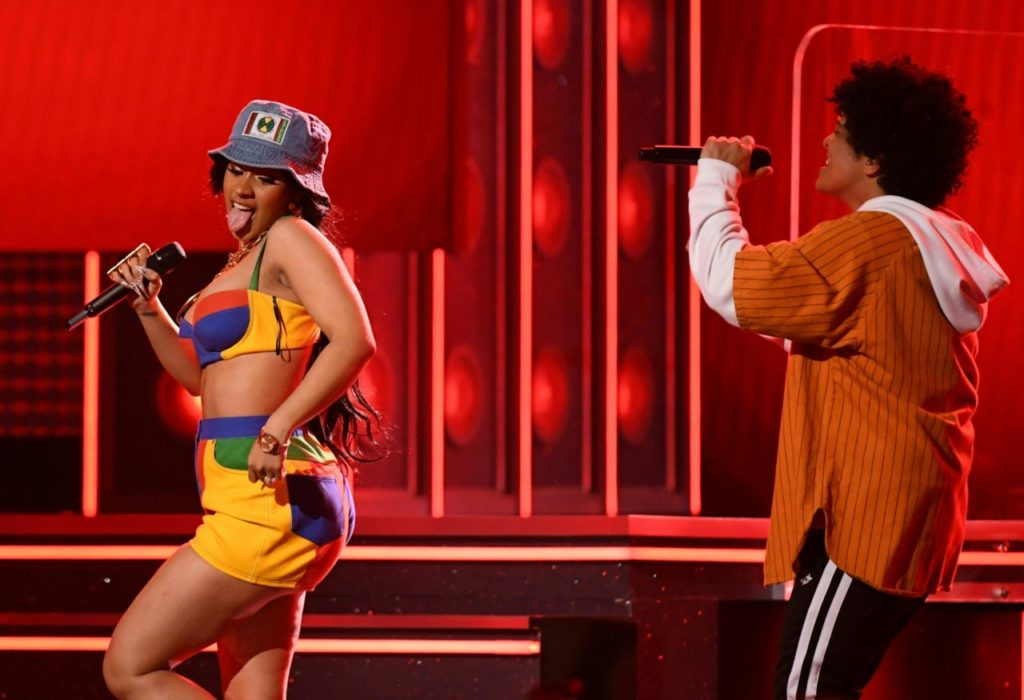 Cardi B (L) and Bruno Mars (R) performs during the 60th Annual Grammy Awards show on January 28, 2018, in New York (TIMOTHY A. CLARY/AFP/Getty Images)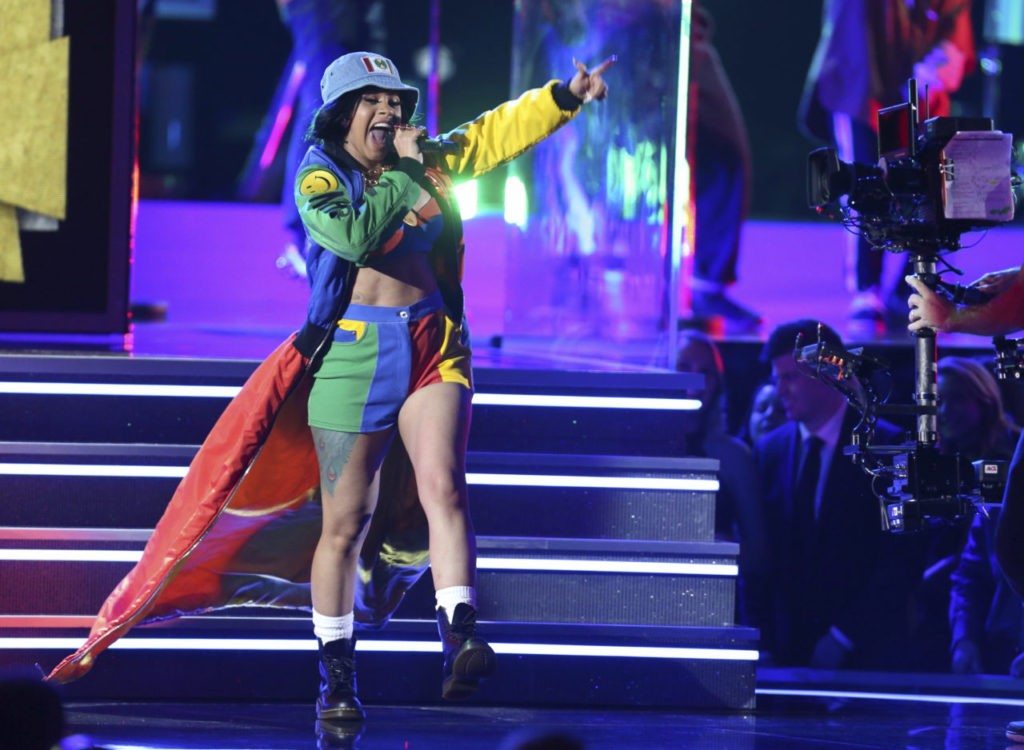 8:49 p.m. – James Corden, Sting, and Shaggy do a New York City "twist" on Corden's Carpool Karaoke, with "Subway Car Karaoke."
This is actually pretty funny. The subway riders are pissed off.
"I don't have any change."
Old lady: "I don't want to be on your stupid YouTube video."
Video to come when available.
8:41 p.m. – Pink performs "Wild Hearts Can't Be Broken."
8:39 p.m. – Kendrick Lamar concludes his acceptance speech for Best Rap Album: "Jay for President."
8:35 p.m. Dave Chappelle comes back on to present Best Rap Album.
Winner: Kendrick Lamar, DAMN. 
8:25 p.m. – Corden: "That's a catchy song, never heard that before. If they could just get that on the radio…"
Introduces the next performer, Album of the Year nominee Childish Gambino, who plays his song "Terrified."
8:23 p.m. – Jerome Hudson: "This 'Despacito' performance comes off as antithetical to the Time's Up movement."
Photos from the performance: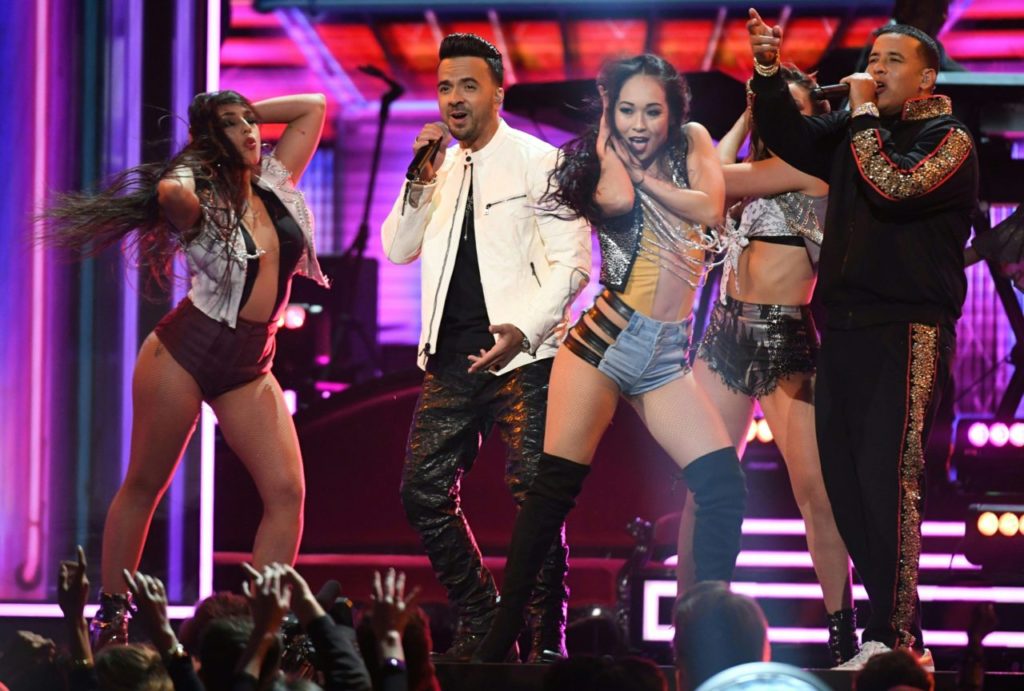 Luis Fonsi (2nd L) and Daddy Yankee (R) perform their hit song "Despacito" during the 60th Annual Grammy Awards show on January 28, 2018, in New York. TIMOTHY A. CLARY/AFP/Getty Images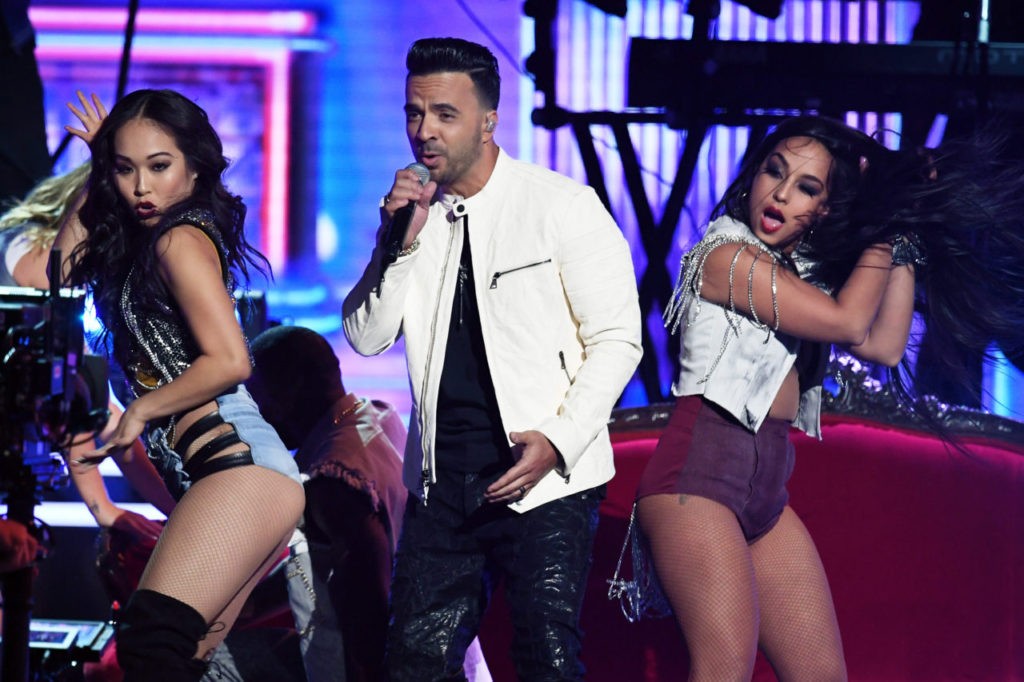 NEW YORK, NY – JANUARY 28: Recording artist Luis Fonsi (C) performs onstage during the 60th Annual GRAMMY Awards at Madison Square Garden on January 28, 2018 in New York City. (Kevin Winter/Getty Images for NARAS)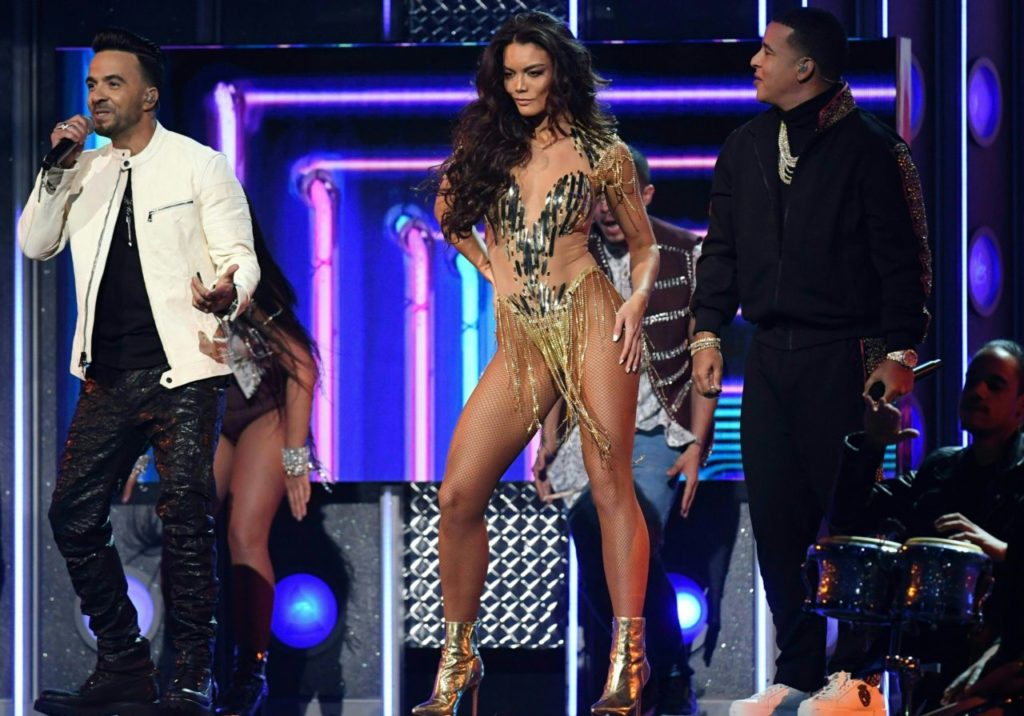 8:20 p.m. – Sarah Silverman and Victor Cruz onstage. Silverman: "We're urging you to vote."
"Do whatever you want, the world is basically over anyway."
Introduces Luis Fonsi and Daddy Yankee, who perform "Despacito."
8:13 p.m. – Clark Jr. and Batiste stay onstage to present the award for Best Pop Solo Performance.
Winner: Ed Sheeran, "Shape of You."
Sheeran's not at the show.
8:11 p.m. – Gary Clark Jr. and Jon Batiste perform "Ain't That a Shame" and "Maybellene" in a tribute to Chuck Berry and Fats Domino.
8:07 p.m. – Cher is gonna be in the new Mamma Mia! movie. Huh.
8:00 p.m. – Best Comedy Album nominee Jim Gaffigan steps onstage to introduce "country music supergroup" Little Big Town, who perform the Taylor Swift-penned tune "Better Man." 
7:57 p.m. – Kelly Clarkson and Nick Jonas present the award for Best New Artist.
Winner: Alessia Cara
7:53 p.m. – Sam Smith performs "Pray."
7:50 p.m. – Corden jokes around with Jay-Z, telling him he'll show him around NYC.
"Concrete jungle where dreams are made of, that's just something I made up."
Introduces the next performer, Sam Smith.
7:43 p.m. – John Legend and Tony Bennett take the stage to present the first award, for Best Rap/Sung Performance.
Winner: Kendrick Lamar feat. Rihanna, "Loyalty"
7:38 p.m. – Lady Gaga up now, performing "Joanne" solo at the piano. Segues into "A Million Reasons." Gives a brief shout-out to the Time's Up movement.
7:35 p.m. – Album of the Year nominee Kendrick Lamar kicks off the show with an American flag backdrop and marching backup dancers in Army fatigues.
U2's Bono and The Edge join Lamar.
As does Dave Chappelle.
"I'm Dave Chappelle. And I just wanted to remind the audience that the only thing more frightening than watching a black man being honest in America, is being an honest black man in America."
Simulated gunshots as the backup dancers hit the ground and Lamar concludes his performance.
7:30 p.m. – Showtime.
7:17 p.m. – James Corden, Lady Gaga, Cyndi Lauper and more stars are wearing white roses in support of Time's Up.
More here.
7:13 p.m. – Miley Cyrus has arrived. Now the show can start.
7:05 p.m. – Rapper Lil Uzi Vert with the red-carpet moment of the night so far.
"Where do you see yourself in five years?"
7:00 p.m. – Thirty minutes to showtime. Stretch your legs, take a smoke break, hit the bathroom, grab some chips and dip.
This one's scheduled to go a full 3.5 hours.
6:55 p.m. – Binder Fashion Update – Kesha chose a cowboy-inspired look, wearing a navy suit and sparkling silver cowboy boots for the Grammys red carpet.
6:49 p.m. – Childish Gambino, Jay-Z, Kendrick Lamar, Bruno Mars, and Lorde are vying for tonight's top prize, Album of the Year. The Washington Post reports that this marks the first year in Grammys history that a white male is not nominated in the category.
WaPo: For first time in Grammy history, a white man isn't nominated for album of the year.
6:45 p.m. – Binder Fashion Update: Hailee Steinfeld arrives at the Grammys in a white dress with a middle-slit that reveals her purple, iridescent thigh-high boots.
6:44 p.m. – Cardi B has butterflies in her stomach, and elsewhere.
6:38 p.m. – A view inside the Garden before the festivities get under way, courtesy of Variety's Cynthia Littleton.
And we've got to get ourselves back to the Garden. Awaiting the start of #GRAMMYs at Madison Square Garden. Funny to see black tie crowd eating stadium food in the corridors. pic.twitter.com/KPVe8RszLm

— Cynthia Littleton (@Variety_Cynthia) January 28, 2018
6:28 p.m. – Elton John arrives on the Grammys red carpet in a colorful beaded suit and flashy sunglasses, a signature of his.
Sir Elton recently announced that his upcoming world tour would be his last.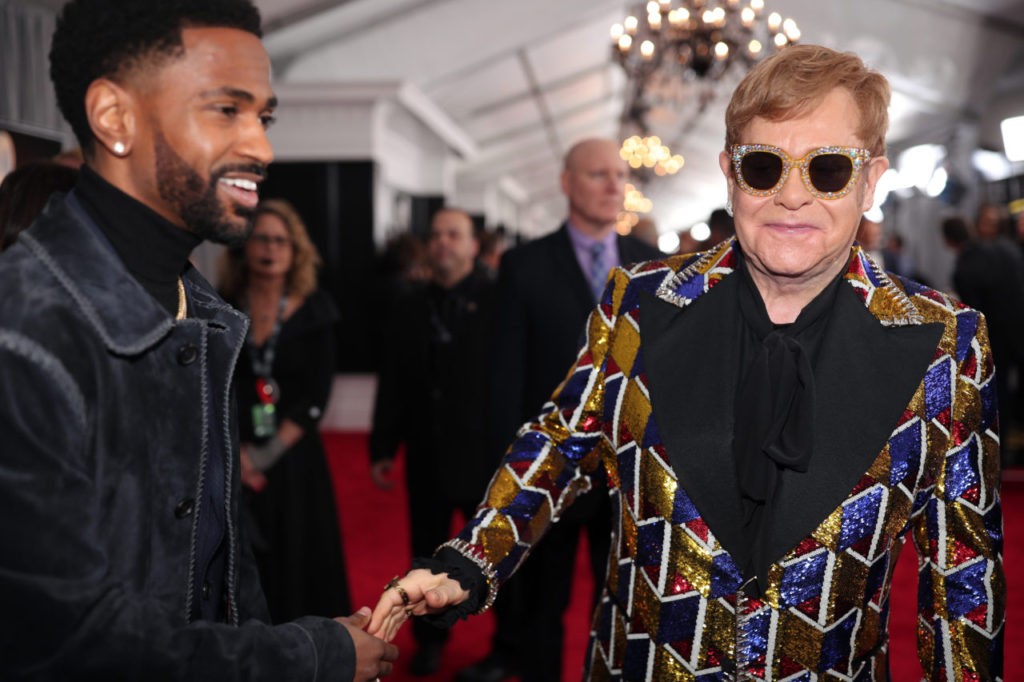 6:22 p.m. – Singer Joy Villa made a strong pro-life statement with her red-carpet arrival, donning a dress with a multi-color womb and accessorizing with a clutch that reads, "Choose life."
More on this from John Binder here.
Villa made waves at last year's Grammys in a full-length "Make America Great Again" dress.
6:15 p.m. – We're up and running with red-carpet arrivals, and John Binder's already picking the fashions sure to end up on tomorrow's Best Dressed list.
Lana Del Rey arrives in a Gucci gown with a crowd of stars sprouting from her dark hair.
Lady Gaga arrives in a custom-made Giorgio Armani gown with sky-high stiletto boots.
Kelly Clarkson arrives with a white rose in her hands. Grammy attendees were requested to wear a white rose to raise awareness for sexual harassment.
Singer Janelle Monáe wears a Dolce & Gabbana embroidered suit that features wide-leg pants and a bow tie.
Surce:breitbart.com
Read more trump news in our President Trump category on following link