The 60th Grammy Awards kick off Sunday night, January 28, at 7:30 ET live from Madison Square Garden in New York City.
This year's show marks the first time in 15 years that the Grammys are being held in New York.
Jay-Z leads all artists with eight nominations this year, and he'll look for a big night for his album 4:44 amid his Twitter feud with President Donald Trump. Kendrick Lamar follows with seven nominations while pop/funk phenom Bruno Mars has six nods.
The Grammys have recently become as much about the performances as the actual awards, and viewers can expect some high-profile and politically-charged performances from Maren Morris and a slew of country stars, who will perform a tribute to victims of gun violence at musical events this year, as well as from Kesha, who is expected to perform her hit "Praying" along with a full chorus.
Stars are also wearing white roses to this year's show as a statement of solidarity with victims of sexual abuse, and host James Corden has promised the show will feature some prominent #MeToo-focused moments.
Follow along as the Breitbart News Big Hollywood team brings you live updates from the show tonight, including winners, commentary and analysis, and of course, the evening's best fashion, courtesy of John Binder.
All times Eastern. Latest updates at the top.
---
7:43 p.m. – John Legend and Tony Bennett take the stage to present the first award, for Best Rap/Sung Performance.
Winner: Kendrick Lamar feat. Rihanna, "Loyalty"
7:38 p.m. – Lady Gaga up now, performing "Joanne" solo at the piano. Segues into "A Million Reasons."
7:35 p.m. – Album of the Year nominee Kendrick Lamar kicks off the show with an American flag backdrop and marching backup dancers in Army fatigues.
U2's Bono and The Edge join Lamar.
As does Dave Chappelle.
"I'm Dave Chappelle. And I just wanted to remind the audience that the only thing more frightening than watching a black man being honest in America, is being an honest black man in America."
Simulated gunshots as the backup dancers hit the ground and Lamar concludes his performance.
Full video as soon it's available.
7:30 p.m. – Showtime.
7:17 p.m. – James Corden, Lady Gaga, Cyndi Lauper and more stars are wearing white roses in support of Time's Up.
More here.
7:13 p.m. – Miley Cyrus has arrived. Now the show can start.
7:05 p.m. – Rapper Lil Uzi Vert with the red-carpet moment of the night so far.
"Where do you see yourself in five years?
7:00 p.m. – Thirty minutes to showtime. Stretch your legs, take a smoke break, hit the bathroom, grab some chips and dip.
This one's scheduled to go a full 3.5 hours.
6:55 p.m. – Binder Fashion Update – Kesha chose a cowboy-inspired look, wearing a navy suit and sparkling silver cowboy boots for the Grammys red carpet.
6:49 p.m. – Childish Gambino, Jay-Z, Kendrick Lamar, Bruno Mars, and Lorde are vying for tonight's top prize, Album of the Year. The Washington Post reports that this marks the first year in Grammys history that a white male is not nominated in the category.
WaPo: For first time in Grammy history, a white man isn't nominated for album of the year.
6:45 p.m. – Binder Fashion Update: Hailee Steinfeld arrives at the Grammys in a white dress with a middle-slit that reveals her purple, iridescent thigh-high boots.
6:44 p.m. – Cardi B has butterflies in her stomach, and elsewhere
6:38 p.m. – A view inside the Garden before the festivities get under way, courtesy of Variety's Cynthia Littleton.
And we've got to get ourselves back to the Garden. Awaiting the start of #GRAMMYs at Madison Square Garden. Funny to see black tie crowd eating stadium food in the corridors. pic.twitter.com/KPVe8RszLm

— Cynthia Littleton (@Variety_Cynthia) January 28, 2018
6:28 p.m. – Elton John arrives on the Grammys red carpet in a colorful beaded suit and flashy sunglasses, a signature of his.
Sir Elton recently announced that his upcoming world tour would be his last.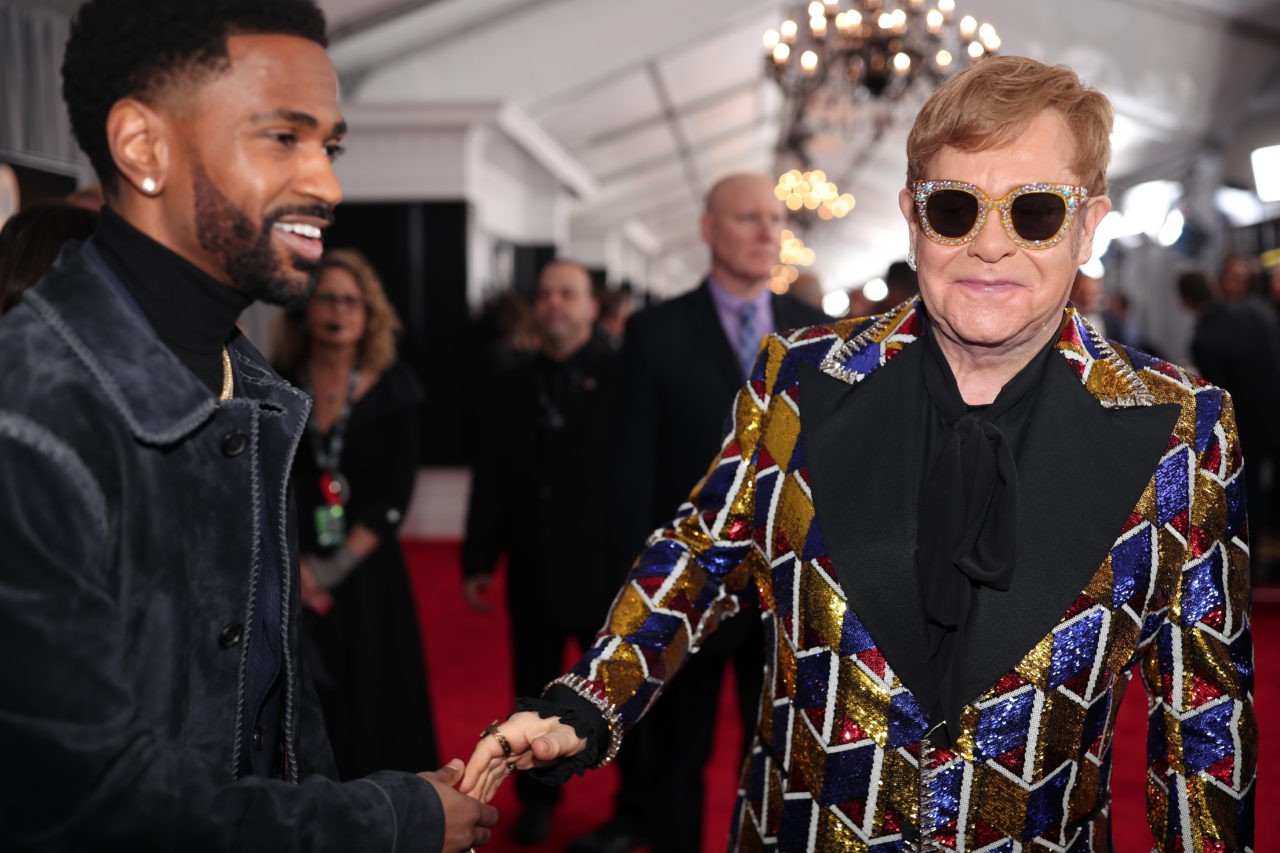 6:22 p.m. – Singer Joy Villa made a strong pro-life statement with her red-carpet arrival, donning a dress with a multi-color womb and accessorizing with a clutch that reads, "Choose life."
More on this from John Binder here.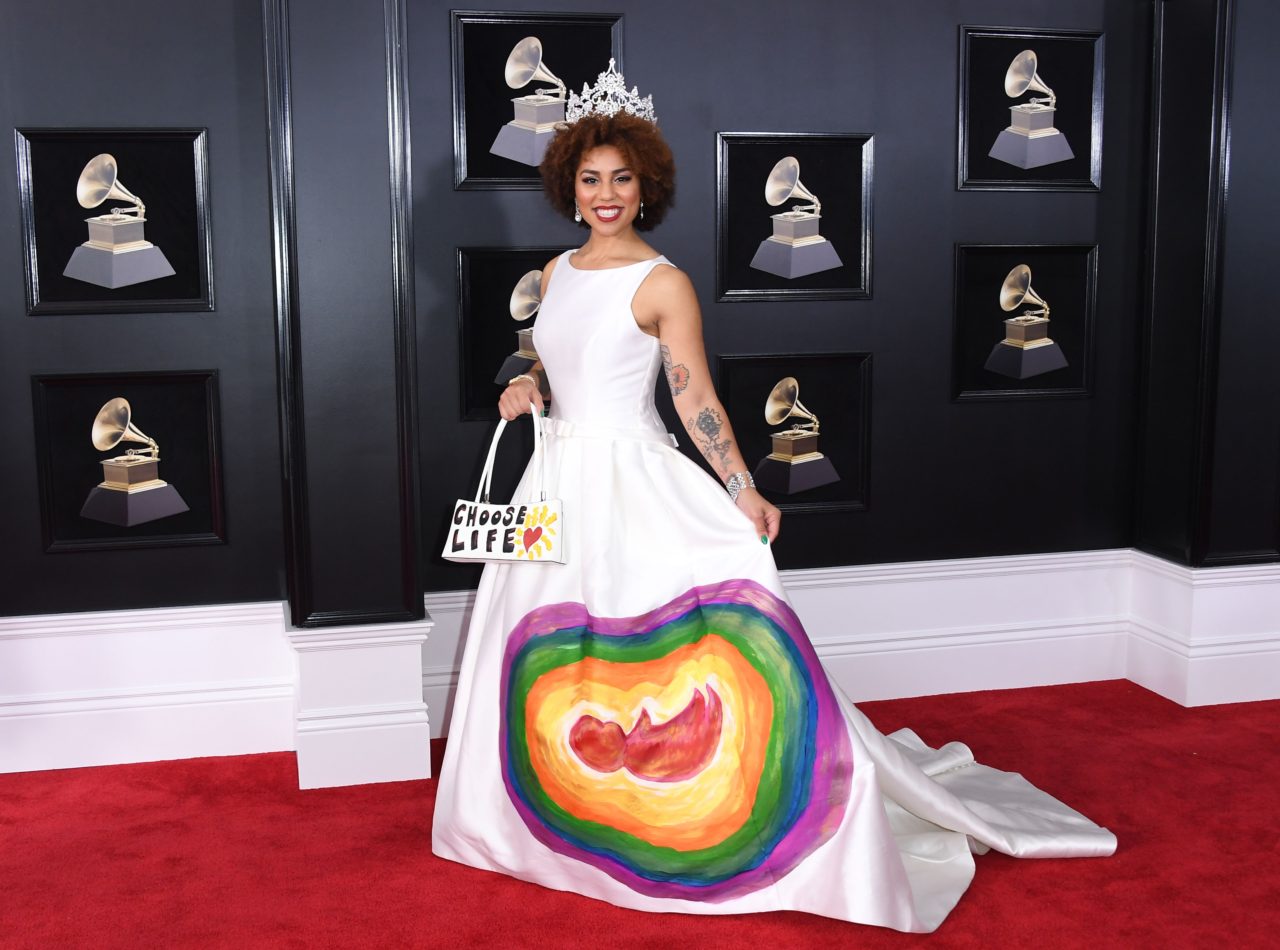 Villa made waves at last year's Grammys in a full-length "Make America Great Again" dress.
6:15 p.m. – We're up and running with red-carpet arrivals, and John Binder's already picking the fashions sure to end up on tomorrow's Best Dressed list.
Lana Del Rey arrives in a Gucci gown with a crowd of stars sprouting from her dark hair
Lady Gaga arrives in a custom-made Giorgio Armani gown with sky-high stiletto boots.
Singer Janelle Monáe wears a Dolce & Gabbana embroidered suit that features wide-leg pants and a bow tie.
Surce :breitbart.com
Read more trump news in our President Trump category on following link