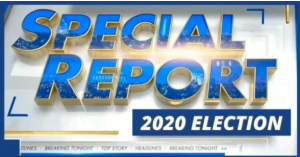 I was wrong in putting any faith in Bill Barr. I thought Bill Barr was an honorable man. He is not. He has done a good job of masquerading as a stand up, honest guy, but when it came to saving the Republic and upholding the Constitution, he ran away.
During Barr's final press conference on Monday, he doubled down on his prior statement:
To date, we have not seen fraud on a scale that could have effected a different outcome in the election."
Barr insists he has not seen sufficient fraud? Is he blind? Is he now illiterate? A blind cave fish can see the evidence.
So let me help you out Mr. Barr. THERE IS AMPLE EVIDENCE OF FRAUD AND YOU ONLY NEED TO LOOK IN THREE STATES–GEORGIA, PENNSYLVANIA AND ARIZONA.
Presently, Biden lays claim to 306 electors, while Trump lags with 232.
Georgia, Pennsylvania and Arizona account for 47 electoral votes. If those votes are properly assigned to Donald Trump and taken away from Joe Biden, Trump wins 279 to Biden's 259.
The total of 103,896 votes separate Trump and Biden in these three states.There is indisputable, tangible evidence of a massive fraud that, once exposed, ensures Donald Trump's re-election. The plot was simple.
Millions of illegal ballots were pre-printed and shipped directly to counting centers in Pennsylvania, Georgia and Arizona (also happened in Wisconsin, Michigan and Nevada).
These ballots were presented as "mail in ballots" but were never actually mailed and never handled by living voter.
These fraudulent ballots were fed into the Dominion voting machines and recorded votes for Joe Biden. Most of the pre-printed ballots excluded down ballot candidates, which is why the Republicans won more than 12 additional seats in the U.S. Congress.
Proving the fraud is even simpler. We only need to compare the physical ballots with the images that are recorded on the Dominion machines. We do not need to worry, at this point, about computer forensics. (That could be relevant later when we go after those foreign entities responsible for the interference). We only need to focus on the ballot images. For example, if a mailed in ballot had actually been mailed, it would have been folded and unfolded several times. Those fold marks show up on the digital image that the Dominion machine made in recording the ballot.
If you have a mailed in ballot that has no fold marks then you have clear, empirical evidence of fraud. A mail in ballot will have fold marks. But there also are other markings embedded in the ballots that will reveal whether or not a person or a machine filled out the ballot.
If you want to understand this type of analysis, please watch this video featuring Jovan Hutton Pulitzer. (Kudos to Joe Hoft who spotted the importance of Mr. Pulitzer early on.) Mr. Pulitzer is a true genius. He knows how to make the complex quite simple:
Source: republicanstory.com