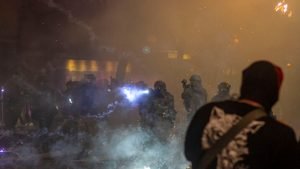 Portland Antifa celebrated New Year's Eve by hurling Molotovs at the Federal Courthouse and destroying small businesses.
According to the Portland Police Bureau, "an estimated 80-100 people" began to engage in violence on New Year's Eve.
"At least two Molotov cocktail-style firebombs were thrown, and large, commercial grade aerial fireworks were launched at the Federal Courthouse and the Justice Center. Some individuals tried to use tools to break into the Justice Center at 1120 Southwest 3rd Avenue, but were not successful," PPB reported.
"Arrests were made. Information on arrests is still being compiled and a list of those arrested will be released at a later time," Portland Police said.
The peasants must stay home on New Year's Eve but Antifa terrorists are allowed to riot and burn down businesses.
WATCH:
Source: twitter