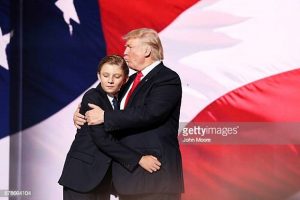 Did young Barron Know what a snake Roberts was back on Inauguration Day?
You know what they say…kids always know. They have a second-sense about some things, don't they? It's because in many cases they see the world and people for what and who they are, not how the media frames it for us and tells us how to think and feel.
"Out of the mouth of babes" is a famous saying for a reason.
So, on that note, a photo from Inauguration Day, where young Barron is giving Justice Roberts the "evil eye" is making its rounds on the internet, with people wondering if Barron had a "Sixth Sense" about the traitor?
Did Barron know Justice Roberts was a snake?
You judge for yourself…
"Barron knows a whole lot more, and a whole lot more than many of us!"
"Look at the smug smile from Ryan."
"love his eyes ! il a détecté le serpent ."
"Probably read his pops tweets about him"
"That other snake in the grass, Paul Ryan, lurking in the background. I'll never forget him simply for the fact that he never acknowledged Kate Steinle."