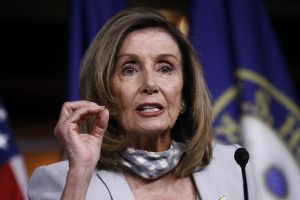 Well, it wasn't a very "Happy New Year" for Nancy Pelosi in her swanky San Fran mansion.
She was up at 300 am, calling the cops to report vandalism at her home.
It looks like a typical "Antifa" hit job – the messaging, the violent vibe, and the "anarchist" symbol that was all left on and around her garage.
BREAKING EXCLUSIVE: @SpeakerPelosi's house VANDALIZED with red paint, PIGS HEAD & spray-painted message "$2K (crossed out)… CANCEL RENT… WE WANT EVERYTHING". City called to clean up at 3am & police attempting to stop photos of scene. Media SILENT. pic.twitter.com/LD1jfZIvco

— 🇺🇸Maggie VandenBerghe🇺🇸 (@FogCityMidge) January 1, 2021