Mike Pompeo, whom President Trump chose for his next secretary of state, is expected to tell the Senate during his confirmation hearing Thursday that years of soft policy toward Russian aggression are "now over."
According to his prepared remarks obtained Wednesday by Fox News from a senior Trump administration official, Pompeo will chastise Russia for acting "aggressively" and emphasize that the national security strategy of the Trump administration considers Russia "a danger to our country."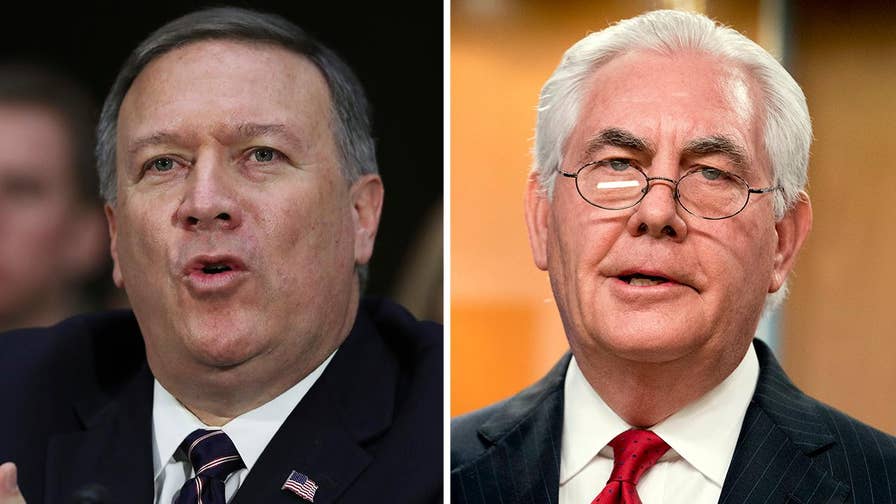 He also will say that diplomatic efforts with Moscow, while challenging, "must continue."
Pompeo, currently the CIA director, will vow to promote democracy and human rights while stressing America's "duty to lead," according to the remarks, despite Trump's vows to put "America first."
"If we do not lead the calls for democracy, prosperity and human rights around the world, who will?" Pompeo plans to say. "No other nation is equipped with the same blend of power and principle."
Pompeo's remarks Thursday before the Senate Foreign Relations Committee will be the first chance for lawmakers and the public to hear directly from the former Kansas congressman about his approach to diplomacy and the role of the State Department, should he be confirmed to replace Rex Tillerson.
Pompeo's views on global issues are well known — he was questioned extensively by senators for his confirmation to run the CIA — but Democratic senators have raised questions about his fitness to be the top American diplomat, given some of his past comments.
"When journalists, most of whom have never met me, label me — or any of you — as 'hawks,' 'war hardliners,' or worse, I shake my head," the former Army officer is expected to say. "There are few who dread war more than those of us who have served in uniform."
The remarks continue, "War is always the last resort."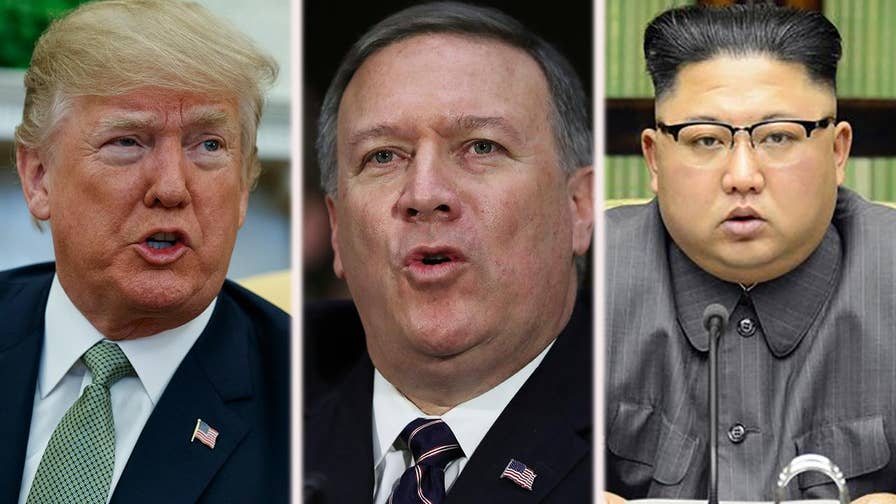 Pompeo's chief goal Thursday is said to be convincing senators that he intends to strengthen the State Department.
Pompeo wants to ensure the State Department is a relevant player in national security policy, a source close to him told Fox News. The source, who wasn't authorized to comment by name and requested anonymity, said Pompeo promises a relevant State Department that will find "its swagger once again."
Pompeo is expected to say that as he met with State Department workers recently, they all said they wanted to be "empowered in their roles" and clear about Trump's mission.
"They also shared how demoralizing it is to have so many vacancies and frankly, not to feel relevant. I'll do my part to end the vacancies, but I'll need your help."
Since being nominated last month, Pompeo has spent much of his time at the State Department immersing himself in briefing books and undergoing mock hearings and prep meetings on key issues like Iran, Syria and North Korea, as well as the inner workings of the State Department, a person close to Pompeo said.
He's also spoken to all eight living former secretaries — including Hillary Clinton, whom he famously criticized over the deadly 2012 attack on U.S. facilities in Benghazi, Libya.
Pompeo's questioning by senators comes amid spiraling tensions with Russia over Syria and China over trade; concerns about the planned summit between Trump and North Korean dictator Kim Jong Un; and uncertainty over the administration's international agenda.
He'll tell the Senate that he's read CIA histories of past talks with North Korea and is confident that Trump won't repeat past mistakes, according to the remarks.
"President Trump isn't one to play games at the negotiating table, and I won't be either," he plans to say.
The Republican also is expected to pledge to make it "an immediate personal priority" to work with U.S. allies to try to "fix" the Iran nuclear deal.
Pompeo plans to say: "The stakes are high for everyone, but especially Tehran. If confirmed in time, I look forward to engaging key Allies on this crucial and time-sensitive topic at the G7 Ministerial Meeting on April 22, and the NATO Ministerial Meeting later that week."
Trump has vowed to withdraw from the accord if agreement with European allies to revamp the deal can't be reached by May 12.
Trump announced Pompeo's nomination to become the 70th secretary of state in the same March 13 tweet in which he dumped Tillerson. "He will do a fantastic job," Trump said at the time, confirming months of speculation that the largely sidelined Tillerson was out of a job and would be replaced by Pompeo, who is known to have the president's ear and respect and shares his opposition to the Iran nuclear deal.
Pompeo, who was confirmed for the CIA job by a 66-32 vote, developed a reputation for being more outwardly political than many past directors of the traditionally apolitical agency. He developed a visibly close relationship with the president, traveling to the White House on most days to deliver the highly classified President's Daily Brief in person rather than leaving the task to other intelligence officials. Often Trump would have the CIA director stay in the West Wing after the briefing to accompany him to other meetings.
Surce:foxnews.com
Read more trump news in our President Trump category on following link