Law enforcement officials with the state of Texas appear to have taken control of the situation in Del Rio, Border Crisis Texas, after the Joe Biden administration repeatedly failed to stop tens of thousands of migrants from illegally entering the United States. Border Crisis
"The Texas Department of Public Safety is in full force along the border around the Del Rio area," Governor Greg Abbott said in a tweet that featured a picture showing scores of law enforcement vehicles that had descended on the area. "They have built a barricade with their squad cars and State Troopers. The National Guard is working with them to secure the border." Border Crisis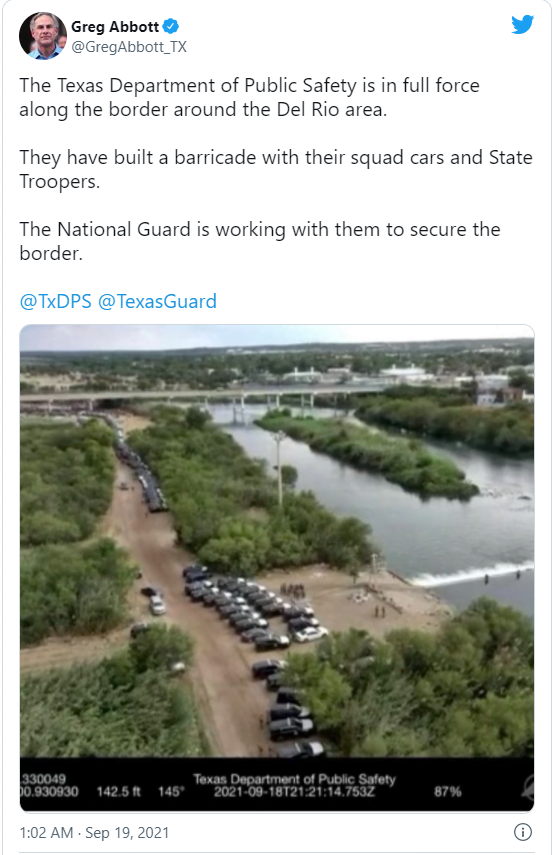 Fox News national correspondent Bill Melugin tweeted out a video showing the "massive surge" in law enforcement presence at the border.
NEW: There is a massive surge of Texas DPS troopers heading into the international bridge area in Del Rio. With close to 15,000 migrants currently under the bridge, law enforcement sources say they want to be proactive w/ potential security concerns for such a big group @FoxNews pic.twitter.com/rH7hPX2Od5

— Bill Melugin (@BillFOXLA) September 18, 2021
The Texas Department of Public Safety (TDPS) tweeted out photographs from both the ground and from their drone that showed the scale of Abbott's response to the crisis that started late last week and erupted over the last few days.
TDPS noted that their response came after "the federal government has failed to secure the border."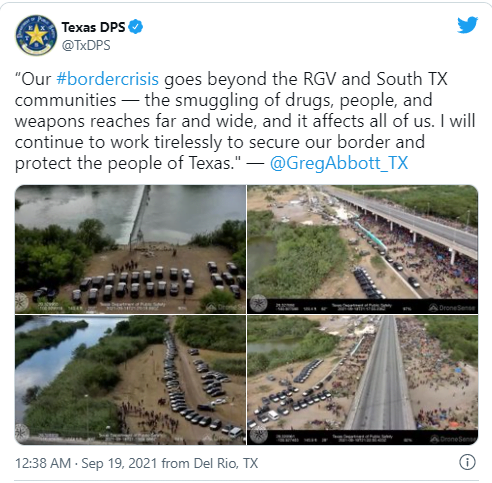 DPS Troopers and @TexasGuard remain on the scene in Del Rio to monitor the #bordercrisis. OperationLoneStar allows Texas to step up where the federal government has failed to #securetheborder.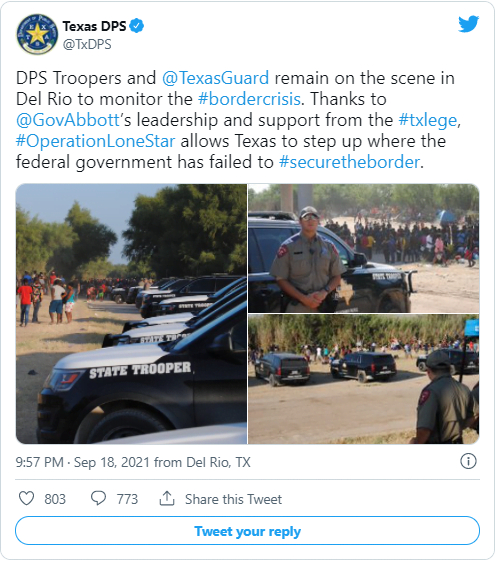 The move by Abbott comes as approximately 15,000 illegal aliens had flooded the area in recent days and there were few signs of the situation getting better.
The New York Times reported that local officials have described the scene as one resembling "a shantytown, with little access to clean water and food and just a few portable toilets." The Times noted that there was no running water at the site, and photos showed people having to carry large packages of bottled water to the area.
Rep. August Pfluger (R-TX) said that a majority of the nearly 15,000 illegal aliens were military aged males and he reportedly told Fox News that there was allegedly criminal activity taking place in the area where the illegal aliens were staying under the bridge. Pfluger said that border officials told him that this was "the worst they have ever seen it." He also said after seeing the situation that it was "worse than you could imagine" and that the "worst is yet to come."
"If they decided to riot or if unrest happened, it would be a terrible situation," Pfluger said. "It is ripe. It is 100 degrees outside right now and you literally have 14,878 people here — this is how serious the situation is."
Rep. Tony Gonzalez (R-TX) said on Saturday that the situation on the border was so dire that "there are food shortages in grocery stores" and "restaurants have closed early to make food for the camp and workers who usually commute from Mexico are unable to get to work resulting in a shortage of help."
Sen. Ted Cruz  (R-TX) slammed the administration during a trip to the site late this week, saying that "Biden could end this tomorrow by simply following the law and reinstating deportation flights back."
"When you have open borders, this is what you get," Cruz said. "This is wrong. This is not humane. This is not compassionate. This is lawless, and it is inviting suffering. This needs to end."