Former Trump adviser Carter Page acknowledges communicating with Trump campaign contacts after the FBI began spying on him – indicating multiple members of the president's team likely were caught up in the secret government surveillance which began days before the 2016 election.
J. Christian Adams, a former Justice Department lawyer who is now the president of the Public Interest Legal Foundation, told Fox News "if there was electronic surveillance, there is no chance they weren't caught up in it."
"You'd normally think that innocent third parties would be protected, but we've seen in this mess unmasking of otherwise innocent people and their conversations," Adams said.
Page acknowledged to Fox News that he forwarded members of the Trump campaign an Oct. 28, 2016 letter he addressed to a European-based organization where he defended himself after his campaign departure.
He said that's the "main thing I do remember contacting them about" during the period he had left the campaign and was under surveillance.
"So that should've all been picked up with the illegal hacking operation that began in Washington about a week prior," Page said in an email.
By itself, the email contact indicates only that a single message to campaign contacts could have been monitored by law enforcement. However, it raises the possibility that any additional messages with those contacts – including emails from them to Page – could have been picked up as well.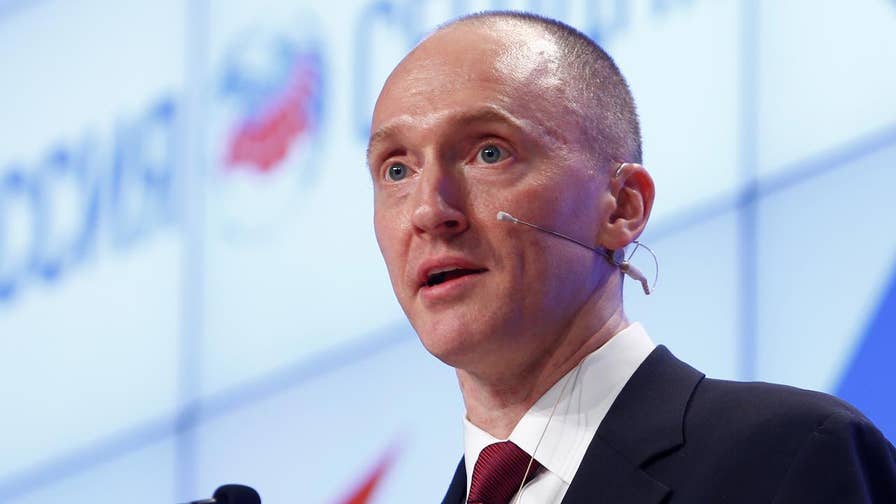 Curiously, the October letter also seemed to reference the opposition research that, it would emerge months later, allegedly was used to obtain the surveillance warrant against him.
"I have learned from a reliable source that a law firm close to the Clinton campaign has hired a London-based private investigator to investigate my trip to Russia," Page wrote, in an apparent reference to former British spy Christopher Steele, who authored the unverified anti-Trump dossier.
Page has long faced questions about his connections and contacts with Russian officials, and left the Trump campaign as an adviser in September 2016 amid negative news reports about those contacts.
The Justice Department and the FBI then "sought and received" a probable cause order authorizing "electronic surveillance" on Page on Oct. 21, 2016, according to the recently released memo from House Intelligence Committee Republicans. The memo asserts the anti-Trump dossier was critical in obtaining that warrant, though Democrats contend the GOP memo was misleading.
Page won't divulge which campaign figures he was communicating with.
"That's ancient history so don't recall much," he said.
But the former foreign policy adviser says he sent a copy of the October 2016 letter to more than 10 people associated with the Trump campaign, including full-time staff with @DonaldTrump.com email addresses, as well as other campaign volunteers.
The letter originally was sent to the Organization for Security and Co-operation in Europe. In the letter, obtained by Fox News, Page pushed back against questions about his relationship with people in Russia and accused Democrats of an "egregious" abuse of "core democratic principles" through their attacks on him during the campaign.
"I am not currently affiliated with any political campaign, but the continued personal attacks by the 'Hillary for America' campaign against me based on completely fabricated, inaccurate information help to clearly demonstrate these violations," Page wrote to the organization.
It's also known that Page was in contact with at least one top Trump adviser during the time he was under surveillance. He told the House Intelligence Committee in November that he spoke with Steve Bannon, the former senior campaign and White House aide, in January 2017 and said Bannon called to urge him not to follow through with a planned appearance on MSNBC.
"We had a brief conversation in January, and we shared some text messages," Page testified. "That's about it."
A former DOJ attorney told Politico that Page's conversation with Bannon could well have been "picked up" in the surveillance.
Bannon did not return a request for comment. A spokesman for the House Intelligence Committee declined to comment.
Since the memo detailing the Page surveillance was released, critics have charged that the FBI used the dubious dossier, prepared as campaign opposition research with funding from the Clinton campaign and Democratic National Committee, to get permission from the secret Foreign Intelligence Surveillance Court to eavesdrop on Trump campaign and transition team communications.
"Just how many people were surveilled and to what extent?" Fox News' Tucker Carlson said Friday on "Tucker Carlson Tonight." "How much did President Obama know about it? We still don't have the answers to those questions, though we definitely have the right to them."
According to the Intelligence Committee GOP memo, the FBI and DOJ obtained "one initial FISA warrant" in October targeting Page, and three FISA renewals from the court.
Surce:foxnews.com
Read more trump news in our President Trump category on following link