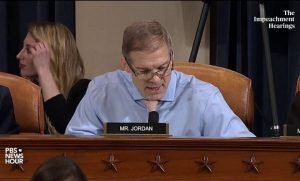 Rep. Jim Jordan (R-Ohio) said he will challenge the electoral votes on Jan. 6 because Democrats weaponized mail-in ballot initiatives in key states to create "confusion" and "chaos."
"The ultimate arbiter here, the ultimate check and balance is the United States Congress and when something is done in an unconstitutional fashion, which happened in several of these states, we have a duty to step forward and have this debate and have this vote on the 6th of January," Jordan said Sunday in an interview with Fox Business, explaining why he is joining a challenge led by Rep. Mo Brooks (R-Ala.).
It came as about a dozen senators led by Sens. Josh Hawley (R-Mo.) and Ted Cruz (R-Texas) have pledged they would join the House GOP challenge, which requires a senator and representative to carry out.
Jordan, who is the ranking member on the House Judiciary Committee, said that Republican House members were aware of plans to delay vote-counting and expand mail-in ballots.
"The Oversight Committee and Republicans on the Judiciary Committee put out this report and we said Democrats were going to do that," he said. "We called this last summer and said on election night President [Donald] Trump is going to be winning but [Democrats] want the chaos and confusion created around mail-in voting."
Democratic officials wanted "chaos and confusion because they were going to win the election after the election," said Jordan.
Mail-in ballots laws were relaxed in a number of key states—namely in Wisconsin and Pennsylvania. Lawsuits after the Nov. 3 election have sought to challenge the constitutionality of those laws.
Executives and courts in the states said those laws were designed to limit the spread of the CCP (Chinese Communist Party) virus, the novel coronavirus that causes COVID-19. The Supreme Court last month rejected to take up a Texas-filed lawsuit against key battleground states, saying that the state lacked standing to file lawsuits against them.
But "that's what [Democratic officials] did with this crazy mail-in ballot scheme that they undertook," said Jordan, who echoed statements that these laws were "unconstitutional."
"Ruth Bader Ginsberg, the late [Supreme Court] justice, said this, 'The ultimate date of significance is January 6,'" Jordan said of the joint session of Congress on Wednesday.
Democratic lawmakers have engaged in similar challenges when both chambers of Congress met to count the electoral votes, most notably when former California Sen. Barbara Boxer and Rep. Stephanie Tubbs, both Democrats, failed to challenge George W. Bush's victory over Democratic challenger John Kerry in January 2005.
Last week, in a statement explaining the reason behind the objection, Hawley stated that "mega-corporations" such as Facebook took "unprecedented" steps to support Democratic nominee Joe Biden's presidential bid. The Republican from Missouri added that the challenge will also give a voice to the tens of millions of Americans who cast their votes for Trump.