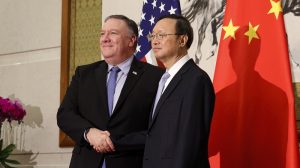 Mike Pompeo just expertly trolled China.
In an epic Twitter post, Pompeo showed himself enjoying two things that the CCP does not allow: wine and the Bible.
But the best part was the verse he subtly highlighted in the Bible, which sheds a big light on religious freedom in China.
Highlighted in Pompeo's Bible is a New Testament verse that appears to be a direct warning to Chinese rulers about whom the real power rests with.
The verse, 2 Corinthians 3:17, reads "Now the Lord is the Spirit, and where the Spirit of the Lord is, there is freedom.
Free worship of God has long been under siege in the People's Republic, where Christianity is tightly regulated. Churches must belong to government-approved denominations, and disobedience can result in imprisonment and physical destruction of the worship house.
Even versions of the Bible not approved by the central ruling authority will land the faithful in trouble. Fortunately, Christians can rest easy knowing the Chinese Communist Party is not the highest authority
While freely worshiping God may be illegal in China, Pompeo was stretching the truth when it comes to the legality of Australian wine there.
Bottles of the alcohol from Down Under are not prohibited to import in the Middle Kingdom, but heavily discouraged by the Communist Party's steep tariffs
Brilliant move by Pompeo here!
He used the Lord's words against China in a big way.
Source: republicanstory.com