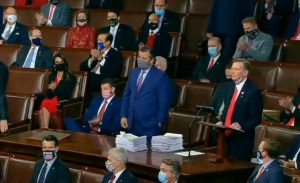 It has begun!
The joint session of Congress has come together to vote on Electoral College Votes and Arizona's Electoral College results have already been objected to.
In a monumental decision, Rep. Paul Gosar stood up when Vice President Pence asked does anyone object to Arizona's Electoral results, right after he stood up Senator Ted Cruz stood up and testified that he signed Gosar's objection.
After the objection, Congress erupted in applause for the two members of Congress that chose to stand up for truth.
Watch the moment it happened, it was truly an iconic moment:
BREAKING FROM HOUSE FLOOR!

Congressman Paul Gosar (R, AZ) & Sen. Ted Cruz (R, TX) join to object to the electoral college submission of Arizona.

BATTLE IS JOINED!

Now we will find who supports, and who fights, voter fraud & election theft!

FIGHT FOR AMERICA'S REPUBLIC IS ON!

— Mo Brooks (@RepMoBrooks) January 6, 2021
Republicans from the House and Senate have objected to the counting of Arizona's electoral vote, forcing votes in both chambers on Joe Biden's victory in the state.

The objection was made by Arizona Rep. Paul Gosar and was signed by Texas Sen. Ted Cruz. Both are Republicans. The two chambers now have two hours to debate the challenge.
ELECTORAL COLLEGE.🏦

The State of Arizona's slate of Electors was objected to by Rep. Gosar (R-AZ) with at least 60 House colleagues and Sen. Ted Cruz (R-TX.)

— Kyle Becker (@kylenabecker) January 6, 2021
Watch the moment it happened again, it was truly an iconic moment:
CLAIM 1 FREE OR CLAIM A DISCOUNT + FREE SHIPPING TODAY!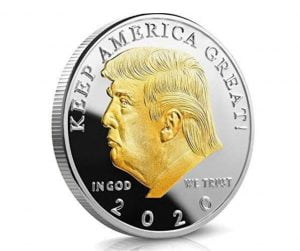 Source: welovetrump.com