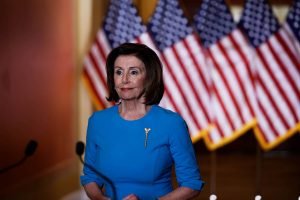 Despite the ongoing pain of the pandemic, Pelosi refused to pass a deal during the Summer or Fall.
She was even offered a $.18 trillion deal that put Americans first. But as you can imagine, she rejected it.
But now, after the election, she accepted a package that cost around $900 billion. Funny, that timing, huh?
She refuses to explain why she delayed talks, only to hastily accept this deal today. Some accused her of playing politics. She's denied that.
Yet some of her own party is outing her.
From YouTube:
Congressman Raja Krishnamoorthi appeared to be celebrating the games his party played in delaying COVID relief. He seems to be admitting that by delaying the new package, Democrats were trying to influence the election.
Pretty concerning, huh? We know Democrats don't like Trump (or most Republicans). After all, they launched impeachment last year to get rid of him over a phone call.
But to deny Americans help during an epic crisis, hoping it would help them win in the election? That's pretty despicable, I don't care who you are.
Just think about what they were doing. Many states shut down their economies, putting millions out of work. Americans need relief and support from their country to weather this time.
But Democrats refused to even lift a finger to help. Why? Because of politics.
And it didn't exactly work out for them. While the presidency is still being debated, it's clear Democrats did not get their "blue wave." They lost seats in the House and more states are now controlled by Republicans.
So, was hurting millions of Americans worth it, Dems?
Source: YouTube