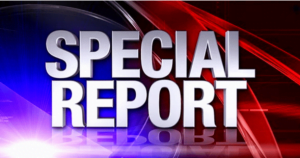 What's Happening:
Next month, two Georgia runoff races will determine the future of the Senate. If both Republicans hold onto their seats, the GOP will have a firm majority.
If Democrats manage to unseat both of them, the Senate will be split 50/50. (That means if Harris becomes VP, she will be determining any ties.)
And, as I'm sure you remember, Georgia's track record this year for elections has been in the toilet. So, nothing can be taken for granted in these runoffs.
A new poll suggests Democrats should be sweating right now.
From Breitbart:

Both Republican Sens. Kelly Loeffler and David Perdue are leading their Democrat opponents, Raphael Warnock and Jon Ossoff, in Georgia's Senate runoff, a Trafalgar Group survey released Friday revealed.

The survey, taken December 14-16, 2020, among 1,064 respondents, showed Loeffler leading Warnock, whom she has branded a "radical liberal," 52.2 percent to his 45.5 percent. The figures include those who are "leaning" toward the respective candidates as well.

Similarly, Perdue is leading Ossoff 50.2 percent to 47.5 percent.
A Trafalgar Group poll revealed that both Republican candidates have significant leads over their liberal rivals.
We know that the reputation for pollsters has been utterly crushed this election. On nearly every count, they were wrong when it came to the presidential race.
So, why do we bother paying attention to them at all? Because it's important to make sure every last Republican in Georgia gets out and vote.
Nothing is guaranteed. And even with these poll numbers, these races aren't certain. From everything we've seen this year, we can't be certain there won't be "irregularities" that will alter the outcome of these elections.
Is there anything Democrats won't do to secure power? They have ignored the freedoms of Americans this year to impose lockdowns, shut down churches, and flood the postal service with unsecured ballots.
Republicans in Georgia can't take for granted that these incumbents will easily win. Both Democratic candidates' platforms should worry them.
Not only do conservatives need to flood the polls, but they need to volunteer to watch ballot counters.
Source: Breitbart